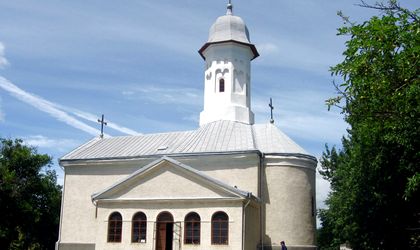 Between September 21 and 23, Armenian culture will be celebrated at the Village Museum with traditional music and dance, photo exhibition, vintage objects fair, handmade object workshops, painting and hand writing sessions (Armenians have their own distinctive alphabet, consisting of thirty-eight letters.) For this event, film screenings will take place at Horia Bernea studio.
The Armenian community in Romania has around 5,000 members residing in the country. This year, the community celebrates its history, culture and traditions as well as 500 years since the establishment of the Hagigadar monastery in Suceava county, which is the most important center for pilgrimage for Armenians across Europe.
About Hagigadar monastery
Hagigadar monastery is a place of worship built in 1512 Armenian Bulai village, the village mill – Suceava county. The monastery is located atop a hill known as "Hill's bubble" seems especially built to house holy dwelling. The slope is inclined and access is possible only on foot, but this does not prevent people to get on my knees way up to the gate.
Nobody knows where it comes from the fact is that knee going to have climbed the hill and the church knees only to be surrounded, all his knees three times. And also important is that most Christians up to the monastery and desires are fulfilled. See their wishes fulfilled after people come back to pray again at the monastery and to thank.
Hagigadar Monastery was built in the sixteenth century by two brothers, Armenian merchants. After an inscription embedded in one of the walls, was founder Asdvadzadur Donavachian Bogdan, a rich Armenian merchant, between 1512-1513 during the reign of Bogdan the Blind (1504-1517).
Legend says that a famous monastery Hagogadar drover Armenian, called Bogdan Donavachian, while leading a caravan of cattle on his way to Budaesta, he stopped on the hill flocks Bulai, deciding to spend the night near the church on top.
Merchant went to the chapel and prayed more. That night, he heard the angels singing and the Virgin Mary appeared in a dream who told him: "We bless you fail manage trade, and your families to live in prosperity. But if it be so, I ask that when you come back This place was built a monastery dedicated to the Assumption ".
And businesses have gone better than ever. Returning to Budapest, brothers knelt Donavakian blessed again on the hill, built here, with fasting and prayer, a convent of stone, fortified, which they called Hagigadar.
Photo courtesy of inbucovina.ro website
Oana Vasiliu