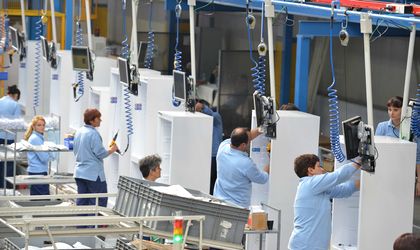 Electronic appliances producer Arctic, part of Turkish Arçelik Goup, will roll out a EUR 23.9 million investment program over the next five years to increase its production capacity in Gaesti.
Arctic took out EUR 10.2 million in state aid to support the investment that will create 572 new jobs.
Monica Iavorschi, general manager of Arctic, said: "This capacity expansion will allow us to grow and consolidate our position on the domestic and export markets." She added the company will increase its range of refrigerators following the new investment.
The new production line started operations in October and generated 195 jobs in the first stage. The company currently employs 2,500 people in Romania.
According to Levent Çakıroğlu, president of Koç Holding and CEO of Arçelik Group, Arctic is the largest producer of refrigerators in Europe, with a yearly output of 2.5 million units.
The company added 10 percent in turnover to EUR 222 million in the first nine months of the year and 85 percent of its business was generated by the Gaesti plant, which is able to manufacture over 70 different products. It aims to grow its turnover by 10 percent next year.
Arctic has expanded its exports, which account for 85 percent of its total sales, delivering products in Europe and South Africa.
The company holds a 36 percent market share sustained by sales under the Arctic and Beko brands.
"The fact that what is produced in Gaesti covers both the Romanian and European markets, it's important and we should develop this model in many areas in Romania, to use Romania as an important production center not only for the domestic market, but also for the European one," said PM Victor Ponta, who attended the inauguration ceremony.
Ovidiu Posirca