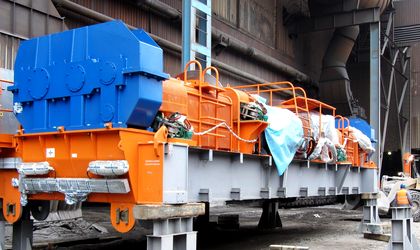 Steel mill ArcelorMittal Galati invested EUR 8 million for an overhead crane and new support beams at the Steel Melting Shop (SMS), which has a transportation capacity of 300 tones and is now operational.
This project is part of a larger modernization program at the Galati SMS that includes the replacement of the old support beams and the power supply system.
"Despite the financial constraints and the effects of the crisis, we continue our investment strategy in the hot flow of the Galati unit to ensure its sustainability", said Bruno Ribo, CEO of ArcelorMittal Galati.
The installing of the new crane brought for the first time at ArcelorMittal Galati the alumino-thermo welding, which is more reliable and offers a longer lifetime. The crane was supplied by a Spanish company and has 30 years designed lifetime.
The still mill formerly known as Sidex Galati was bough in 2001 by LNM Holdings NV for USD 70 million. The transaction included investment obligations of USD 351 million and a working capital of USD 100 million. Mittal Steel became the owner of Sidex Galati in 2004 and two years later it became ArcelorMittal Galati, following the merger of Mittal Steel and Arcelor.
Ovidiu Posirca