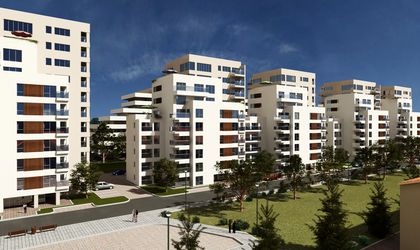 The asking prices for apartments have dropped slightly at national level by 1.6 percent (from EUR 980 to EUR 964 per sqm) in November over the previous month, though staying 4.7 percent above the values recorded a year before, according to a study by Imobiliare.ro.
Among the largest cities in Romania, Bucharest is the only one that registered drops in asking prices both for old and new apartments, while Constanta was the only city to record rises for both. This has brought the Bucharest prices down by 1.1 percent (from EUR 1,107 to EUR 1,095 per sqm), while in Constanta they were 0.2 percent higher (from EUR 910 to EUR 912 per sqm).
Thus, in Bucharest old housing units were 1 percent cheaper in November than the EUR 1,043 per sqm level they had in October, while newly built housing units were 1.1 percent below the October values (EUR 1,135 per sqm). However, both types of homes stayed above the prices registered the previous year (2.8 percent for old apartments and 0.6 percent for new ones). The overall asking prices showed a 3.2 percent advance year on year.
In Constanta old apartments had prices 0.2 percent higher than in October (when they stood at EUR 901 per sqm) and 4.6 percent higher y-o-y (EUR 863 per sqm in Nov 2014), while new housing units rose 0.4 percent against October (when they were at EUR 934 per sqm) and 6.2 percent year on year (EUR 883 per sqm in 2014). Therefore overall prices saw a 0.2 percent advance compared to the previous month and a 5.1 percent annual rise.
In Cluj-Napoca, Timisoara and Brasov newly built apartments recorded drops between 2.5 and 4.3 percent, while old housing units saw hikes between 0.4 and 1.4 percent. Overall asking prices dropped in Cluj-Napoca (0.4 percent, reaching EUR 1,126 per sqm) and Timisoara (0.2 percent, reaching EUR 937 per sqm), while in Brasov they kept constant at EUR 871 per sqm.
All three cities saw rises in the annual values for both types of apartments, with Cluj-Napoca posting the highest advances (14.9 percent for old and 8.9 percent for new homes), followed by Timisoara (12.4 percent for old and 8.2 percent for new ones) and Brasov coming in last with a 6.8 percent rise in asking prices for old apartments and 4.8 percent for new ones.
Iasi, on the other hand, showed the opposite situation, with asking prices for new homes going up by 0.8 percent (to EUR 890 per sqm) and old housing units becoming cheaper by 1.3 percent (reaching EUR 827 per sqm) over the previous month. However, prices are still higher y-o-y for both new (up 5.8 percent) and old (up 3.4 percent) homes. The overall asking prices in Iasi were relatively constant over October, while annual values rose 5.6 percent.
Natalia Martian