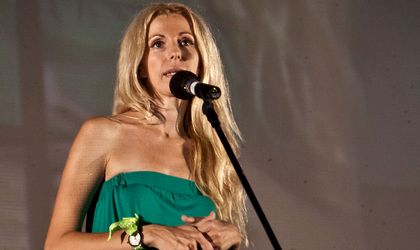 Much has been said and written about what's Anonimul, but nothing compares with the experience of actually being there, right in the heart of one of the most savage places in Europe, the Danube Delta. Business Review talked with Miruna Berescu, the director of Anonimul International Independent Film Festival,  about this the idyllic backdrop of the Danube Delta and Black Sea and this festival's charms.
By Oana Vasiliu
What makes this festival stand out?
First of all, we should start with the place which is basically at the back of beyond– situated where the ground has finished and then everybody uses boats to arrive here. Then, we must mention the atmosphere we tried to create for this festival and last but not least, the content – we want to have a closer look on the movies which won't have national distribution because the effort of the public should be rewarded somehow.
How has the audience evolved over the years?
In our first years, we still had to convince ourselves that this festival which was happening here, in Sfantu Gheorghe, should be as it is, then convincing others to come. Things are quite different since the beginning of the festival. Being here from the first edition, the dynamics of the public has changed. As I was talking with director Cristi Puiu, who was here at the first edition and then now, twelve years later, everything looks quite interesting: the place looks identically, but the public is different. And most important, the audience has grown significantly. I remember that we started with 400 persons as public, and then the audience has grown. Since 2007, the festival was big enough in order not to explain anymore when I introduced myself what is Anonimul – people already know about the festival.
Also, from the very beginning we positioned ourselves as a niche, which couldn't be the best thing, to be honest. In time, we realised that the locals can also become our public, first watching half of a movie, then an entire movie and then even asking questions, creating relationships.
What represents Sfantu Gheorghe for you?
That was also a transformation. From the very beginning when I heard Sfantu Gheorghe, I had in mind everything that a new-comer has: it is far away, there are mosquitos, there are not to many accommodation places. And I arrived here convinced that I won't like it.
The first time I admit I didn't like what I saw. The things radically changed when we started screening the movies – it was night and dark and when I looked up and I saw the stars, I said, "oh my God, yes, this is it". Then I started to like everything more and more. Now, I hardly wait to finish up my things to go for a walk in the village or see the sea. It's an incredible evolution.
From all beautiful places of Romania, why Sfantu Gheorghe?
It was the idea of Sorin Marin, the president of Anonimul Foundation, who was a regular visitor of the village. He liked the place so much so he started to build up this project – a combination between helping the local community and his passion for cinema.
How was working with local authorities?
Not so much at the beginning, mostly because of us. We were working on this project from Bucharest, without being here and talking with them face to face. We also didn't know exactly what we had to do in terms of organisation: here we have to bring everything – from guests to technical stuff. So we learned how to ask for help –  and things between us have settled.
What is the profile of the festival goer?
We have all kinds of tourists here – it's a bit difficult to make a profile, but there are young spirits – both the youngsters and the adults. Also, here are people from all Romania, and you realise this by listening them talking and recognising their different accents.
How do you select the special guest?
We select the movies we like from other festivals, then we make a short-list and then we make the invitations. We don't go after the name, we do the selection from their work. With Park Chan-wook, we contacted him after he won at Cannes, and now the things have settled and we brought him here.
Read also: Director Park Chan-wook: "Travelling to Anonimul, I've seen the most beautiful sunset in my life"
How difficult it is to obtain sponsorship?
Well, now it is easier to obtain funding than it was at the beginning. We also have some long-term partnerships with some brands. What's really difficult is to convince new partners, especially those who haven't been there.
The retrospective of Anonimul International Film Festival is taking place in Bucharest this weekend, from September 8 to September 11. The screenings will take place at Elvira Popescu Cinema and tickets can be booked in advanced from www.eventbook.ro for RON 15.