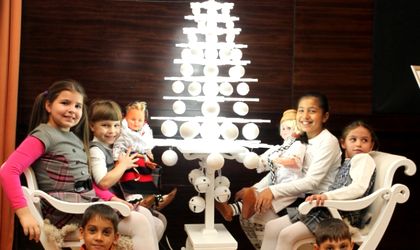 Twenty-one designers have prepared this year the 13th edition of Christmas Trees Festival, a charity event that will raise money for children without education and financial support through the Save the Children foundation. The event will take place on December 5 at Radisson Blu Hotel.
The Christmas Trees Festival began in 2001 when Save the Children foundation came up with a unique way of raising funds to offer education to children living in vulnerable places. Since then, EUR 2.669.100 have been donated, while 16.200 of children benefit from educational programs held by Save the Children foundation.
The designers that took the challenge this year are Doina Levintza, Wilhelmina Arz & Romanian-Japanese Chamber of Commerce, Hamid Nicola Katrib & Noblesse Galleries, Lena Criveanu, Carmen Ormenișan, Stephan Pelger, Mădălina Dorobanţu, Mirela Diaconu, Malvina Cervenschi, Alexandru Ghilduș, Anca Lungu, Ramona Filip, Iris Şerban, Rhea Costa, Ego Men's Fashion Concept,  Bucharest Design Center, Corina Vlădescu & Dumbrava Minunată Foundation, DIZAINAR, Laura8, ZENYA Atelier & Friends, Agatha Blanck & Bucharest Shopping & Bonpoint.
More details about these programs can be found on their website.
Oana Vasiliu