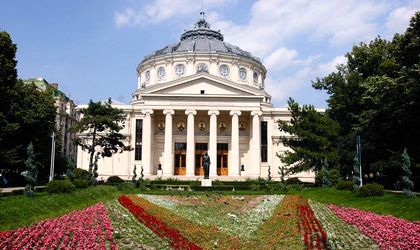 An anniversary show will mark 125 years since the Romanian Athenaeum was inaugurated. The event takes place tonight at the Athenaeum's Great Hall.
Starting from the theme "The Athenaeum and his muses over the century", combining music, poetry and images, the performance presented by Cristina Vasiliu together with by the George Enescu Philharmonics will include known and unknown stories about the Romanian Athenaeum.
Thus, the audience is presented with information about the artists who performed on the Athenaeum's stage, such as musicians and composers George Enescu, George Georgescu, Dinu Lipatti, Valentin and Stefan Gheorghiu, Ion Voicu, Radu Aldulescu, and many more, famous music lovers like Romanian writers Tudor Arghezi, Mihail Sebastian, Lucian Blaga, George Calinescu, Tudor Vianu, or painter Corneliu Baba, etc. The public will also be introduced to the first edition of the George Enescu Music Festival and Contest, and to great artists like Sviatoslav Richter, Yehudi Menuhin, Herbert von Karajan etc. who performed in Bucharest on the occasion.
Oana Vasiliu