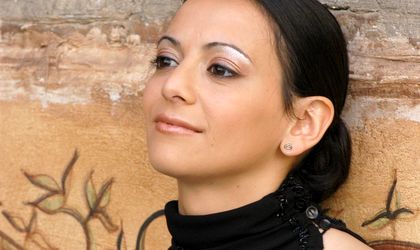 On Wednesday, October 7, the Radio Hall hosts an evening of symphonic tango featuring Analia Selis along with the Radio Chamber Orchestra, conducted by Radu Popa, and Mariano Castro, Argentinian pianist of Narcotango.
Analia Selis returns with a tango event after her 2014 and 2015 Do you like tango? tours across Romania. The concert will feature well known pieces of tango, milonga and waltz-tango by great composers such as Astor Piazzolla and Carlos Gardel, along with famous local songs like Zaraza, Do you want to meet Saturday night? or Drive, cartman!. The repertory also includes: Milonga Sentimental, Flor de lino, El choclo, Por una cabeza, Se dice de mi and others.
The concert will be transmitted live on Radio Romania Cultural and Radio Romania Muzical and will be streamed live on www.radiorormaniacultural.ro and www.romania-muzical.ro.
Analia Selis, Argentinian born, has held numerous other concerts across Romania and was invited to open musical events for the Buena Vista Social Club, Junaes, Natalie Imbruglia or Septeto National de Cuba.  She represented Argentina at the Cerbul de Aur competition in 2004, placing third and landing her a deal with Media Pro Music label for two albums. She has had numerous collaborations since, topped with the latest tour alongside Razvan Suma and Julio Santillan.
Mariano Castro, an Argentinian from Buenos Aires, is the pianist of jazz fusion group Narcotango, mixing tango, jazz and electronic music, and is also the founder of the Tango Colectivo Orchestra. He has played, as part of Narcotango but also as a soloist, in more than 25 concerts across Europe, USA, Canada and Latin America.
Radu Popa, permanent conductor of the Timisoara Philharmonics Orchestra, Banatul, has studied in Wien under Erich Bergel and has a career unfolding between some of the greatest world stages, including the Auditorium in Rome, the KBS and Seoul Arts Center in South Korea.
Natalia Martian