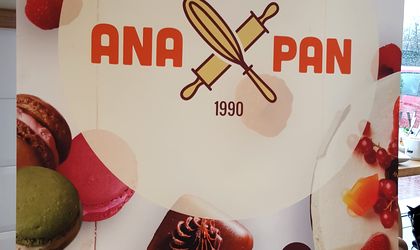 Ana Pan estimates it will increase its turnover this year by almost 25 percent against 2014 when it reported EUR 3.2 million, Alexandra Copos de Prada, the CEO of Ana Pan, told BR. This is the highest growth level that the Romanian chain of confectionery and pastry shops has reported since 2008, she added.
An inversion point was noticed in February 2014 when profits soared so much that since then some shops have even doubled their sales, according to Copos. "The VAT reductions have helped a lot, both in the hotel business and with Ana Pan", she said, referring to the other companies within the Ana Holding group. The Ana Pan growth was also facilitated "by all the steps we took two and a half years ago, when we invested a lot in the staff, meaning the remaking of the management and recruitment teams," stated Copos.
The CEO says that over the next few months "one of our objectives is to focus on our online shop that we started eight months ago". As for the next year, the aim is to maintain the growth levels around 15-20 percent while opening more shops and expanding outside of Bucharest.
The first Ana Pan shop opened its doors in the Dorobanti area in 1990 and to celebrate their 25th anniversary, the company has recently opened a new concept shop following an investment of EUR 120,000. What started as a family business has grown to a network of 13 shops in Bucharest and seven shop-in-shop partnerships with Mega Image. "We will continue the expansion. We have three more shops that we hope to open until Christmas," said Copos earlier today. Ana Pan has also partnered with Anchor Grup in regards to a possible opening of Ana Pan shops in Plaza Mall and Bucuresti Mall, she stated.
Ana Pan is also looking to expand outside of Bucharest in major cities such as Brasov, Timisoara and Cluj, said the CEO. In order to do so they will need another production center for which the setup has already been started. As for the challenge of entering new markets where other confectionary and pastry chains are already operating such as Panemar in Cluj, Ana Pan is "different from Panemar. They focus a lot on the pastry and in-shop sandwich making side, while we focus more on the confectionery, bakery and fresh food side of things", said Copos.
The new concept is also part of the new Ana Pan "It's cool to be old school" position, which means that while not venturing away from their traditions, Copos believes that the look of the Ana Pan shops needs to change, which is reflected in the design of both the Ana Baking Co. shop and the new concept shop.
Ana Pan is also aiming to bridge the gap between those who make the products and those who buy them. "This is why we have this open production space here, where the staff will be working constantly", said Copos of the open design of their new concept shop where it is possible to see the bakers at work.
Andreea Tint