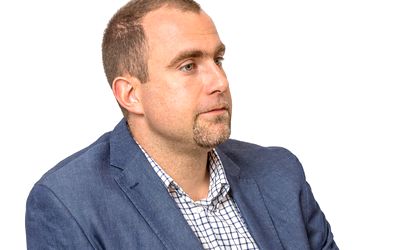 The Romanian authorities are no closer to providing a predictable and transparent environment for investors in the pharma industry, Gabor Sztaniszlav, general manager at Amgen Romania, tells BR. Locally, the biotechnology company mainly invests in leading clinical trials, a sector where it has recently celebrated five years of presence.
Otilia Haraga
How do you perceive Romania as an investment climate?
In recent years, the Romanian business market has proven to be a very difficult one for pharma companies, and most importantly, it discourages all types of investments. This is mainly because the market suffers from a marked lack of transparency and predictability.
The authorities have implemented several regulations that, over time, have become major fiscal burdens for the pharma industry – such as the clawback tax, the methodology used to calculate drug prices and the process for updating the reimbursement list.
Let's look at the clawback tax, for example. In 2009, it was introduced by the authorities as a temporary measure to help the healthcare system face the economic crisis. Now, in 2014, we are talking about an over-taxation of the healthcare industry that compels drug producers to cover the entire healthcare deficit generated by the difference between the budget that the state allocates for patients' treatment and the real level of drug consumption. The main issue is that the budget used as a reference by the authorities is at the level of 2011.
Patients' treatment needs to increase yearly and so each clawback bill is higher than the last. Amgen is now paying for approximately 25 percent of all drug sales, and we expect this percentage to grow. At some point, in the not too distant future, we will not be able to sustain this over-taxation of our company. Because of this, some products have disappeared from the Romanian market and if there are no changes, this trend will continue. I am talking about innovative products, for which there are quite often no alternatives if they disappear.
Has the state provided Amgen with any type of aid or tax deductions?
The Romanian state, through all the regulations imposed on the pharma industry, has increased the level of taxation for drug producers and is making no effort to encourage investments.
What R&D projects is Amgen implementing in Romania at this point?
We have been present on the Romanian market since 2010.  Our most important project is to bring to local patients the latest drugs we are on the verge of discovering as we speak.
Globally, in 2014, we invested over USD 5 billion in research and development and we have 40 biologic therapies and 6 biosimilar products in the pipeline. Two of our molecules treat late-stage cancer – malignant melanoma and multiple myeloma – while another two treat cardiovascular disease, the cause of the highest number of deaths worldwide. We make it our mission to bring these last generation drugs closer to Romanian patients and contribute to their introduction onto the reimbursement list, so that patients can have access to them.
Unfortunately, Romania is among the lowest-ranking countries in Europe, having not fully updated the reimbursement list for more than seven years, and there are over 100 therapies waiting to be introduced. Three of these are produced by Amgen.
How much has Amgen invested in Romania in the past five years?
Amgen's most important local investments are in the field of clinical trials. In the past two years alone, more than 1,500 Romanian patients have had free access to therapies developed by Amgen, which otherwise they could have not accessed, by participating in clinical trials. The next major investment is in the IS security division. Last year, the company consolidated its domestic presence by relocating to Romania an important part of its division in charge of the monitoring, diagnosis and defense against cyber attacks, the information security operation center. By the end of 2016 we plan on investing approximately USD 6 million in the development of the division, creating over 50 jobs.
How many divisions does Amgen have in Romania? And how many employees?
In Romania, Amgen is structured into various departments, not divisions – such as marketing, corporate affairs, medical and colleagues dealing with clinical trials.
We have over 40 employees at the local affiliate (ed. note- local branch) and approximately the same number of people working for the global IS security department.
Are you planning on recruiting new employees this year? What positions do you have available?
We are looking into consolidating our IT division, which was recently relocated to Romania. The division has 40 employees and we estimate that by the end of 2016, another 10 members will join the team. For the local affiliate, the market conditions do not allow us to extend the size of our team. If the reimbursement process were more predictable and transparent, and the business environment more sustainable, then we could generate new positions. But this is yet not the case.
Why did you make the decision to open an information security operation center in Romania?
There were two reasons behind our decision to relocate our IT division to Romania. First of all, Romanians are widely known for their great performance in this field. Secondly, IT is one of the most stable and predictable environments in Romania where the state has taken steps to incentivize investments.
What is the company's investment plan in the coming year? Will you be launching new divisions or research areas in Romania?
Given the continuously changing business environment in Romania, it is very difficult to talk about specific 2016 plans. Since legislation is changed almost every week through emergency or government ordinances, we cannot even plan a month ahead, so you can easily understand that investors don`t trust such environments for additional investments. It is our long-term objective (…) to become, step by step, one of the top 20 pharmaceutical companies in Romania.
What revenue and profit do you expect to obtain this year? How much did you post in 2014?
In 2014 we posted a turnover of over USD 40 million, but for 2015 it is very difficult for us to estimate, due to the level of uncertainty and the high number of variables that remain unknown to us. First of all, we do not know when the prices for our drugs will be set and we are waiting for the implementation of the new Order 75 and the publication of the two price catalogues that are now under discussion.
Secondly, there are Amgen drugs waiting to be put on the reimbursement list and we do not know if they will be introduced this year, and if so, what number of patients will be treated with our drugs. Moreover, as I mentioned before, we have no predictability regarding the clawback tax.