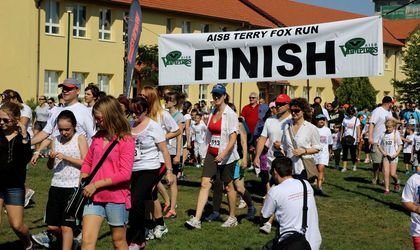 The 14th annual Terry Fox Run will be held at the American International School of Bucharest (AISB) on September 6. The students and members of AISB Community will try to raise awareness for the need to find a cure for cancer, as well as to celebrate the beginning of a new school year. For this event, the official press release says that over 800 persons will attend the marathon which will have five kilometers in the Baneasa Forest.
Terry Fox was from British Columbia, Canada and at 18 years old he was diagnosed with bone cancer. While in hospital, Terry was so overcome by the suffering of cancer patients that he decided to run across Canada, more than 8,500km from Atlantic Ocean to the Pacific Ocean, to raise money for cancer research. He ran a marathon a day (42 km) for 143 days and went 5,373km in total. He died on June 28th, 1981 before he finished going across Canada, but he managed to raise millions of dollars for cancer research. He called his run the Marathon of Hope.
AISB has managed to rise in the past 13 editions over EUR 150,000 and the amount of money was given to Grigore Alexandrescu Children's Hospital for cancer research.
Oana Vasiliu