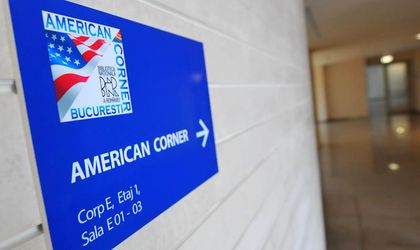 The inauguration of American Corner Bucharest was made today in the presence of representatives from the US Embassy, the Ministry of Culture, Ministry of Education, Ministry of Foreign Affairs, Bucharest City Hall, non-governmental organizations and professional associations, high schools and universities, libraries, museums and other cultural organizations, IREX, and the Fulbright Commission.
US Embassy opened the ninth American Corner in Romania at the National Library of Romania, in order to help meet the needs of Romanians who are interested in learning about the United States of America.
The American Corners Program in Romania started in 2005, showcasing American culture and values, promote the learning of English, encourage study in the United States, and foster a real dialogue with the Romanian public.  American Corners are partnerships between the U.S. Embassy and Romanian host institutions.  They offer free access to accurate information about the U.S.  State Department-managed online databases, publications, videos, photos, and speakers are available at American Corners.
Together with the inauguration of the center, two exhibitions take place: "Visual Power: 21st Century Native American Artists/ Intellectuals." which shows Native American contributions as scholars, professors, museum curators, and writers as well as makers of traditional fine arts, video and photography to document their cultural heritage and their struggle for sovereignty and a second poster exhibit, "America 24/7", accompanied by a book, the result of a project by American author and publisher, David Elliot Cohen, and American photographer, Rick Smolan.  More than 25,000 digital photographers across the U.S. – including 36 Pulitzer Prize winners – responded to the invitation to take pictures of their towns, families, neighbors and friends for 24 hours a day for seven days.  The best photos capturing the diverse authentic America were included in the exhibit.
Oana Vasiliu