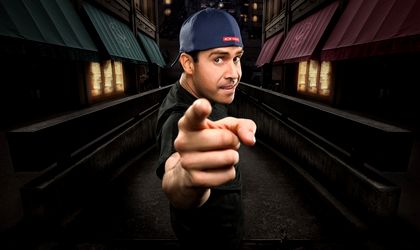 When Pablo Francisco hits the stage, he immediately brings his audiences to their feet with boisterous laughter and applause. This effect will reach the Romanian on November 4, at Sala Palatului. He weaves together his arsenal of characters, spontaneous outbursts, and clever insights to create a stand-up show that more resembles an hour-long comedic jazz riff, called "Live and Kickin' Tour".
Chilean-born American comedian, Pablo Francisco is one of the most famous artists in the world of stand-up arsenal of jokes, sketches, characters that bring each new scene a peerless performance. His first shows of stand-up have appeared in the program Comedy Central Presents, in 2000. Early in his career, in 2001-2002 he toured with Carlos Mencia and Freddy Soto, tour promoted under the name "The Three Amigos", followed by numerous TV appearances in specialized programs or shows like "The Tonight Show" with Jay Leno. Over time, his tours have gained many fans; his gigs are increasingly in demand. In 2009, he toured Europe with 9 sold-out performances, followed by another series of sold-out live performances!
Jackie Chan, Aaron Neville, Arnold Schwarzenegger, Howard Stern, Casey Kasem, Keanu Reeves, Michael J. Fox, Jerry Springer, Don Lapre, Celine Dion, William Hung, Danny Glover, Chris Rock, Jimi Hendrix, Tony Montana, Stone Cold Steve Austin, Ozzy Osbourne, Ricky Martin, Dennis Hopper, George Clooney, Dennis Haysbert, Anthony Sullivan, Christopher Walken, Aladdin, Kermit the Frog and even Dracula are among the characters he presents in his shows.
The performance that will be held in Romania will be entirely in English. The ticket price is between RON 100-260.
Oana Vasiliu