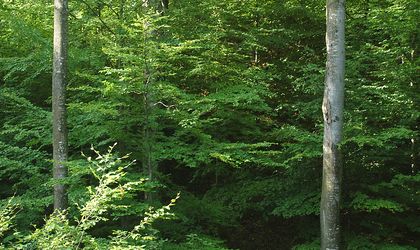 AmCham Romania, the business advocacy group, said it was expressing its "deep concern" over certain provisions in a new draft bill amending the Forestry Code, claiming they "are far from" solving the dramatic problem posed by the ongoing illegal deforestations and retrocession.
The draft bill has been adopted by the Senate, the higher house of Parliament, on September 17, and has been submitted to the Chamber of Deputies, the lower chamber that will hold the decisive vote on the bill, following an emergency procedure.
"On behalf of the business community, we wish to express our deep concern over certain provisions of the draft law that do not appear to impose measures intended to ensure a real and sustainable safety of the national forest area, such as: exclusion from the national forest area of protective forest belts and of wooded pastures with a denseness higher than or equal to 0.4; possibility to erect constructions at a 50m distance from the forest margin; diminution of the area to be afforested by 2035 from 2 million hectares, an obligation assumed by the Romanian state, to a surface of 1 million hectare by 2030," said the AmCham in a statement.
In addition AmCham has recommended the Chamber of Deputies to "make a thorough analysis of the draft law adopted by the Senate and of the disastrous medium and long-term effects which the proposed amendments can have on the national forest area, on the national economy and on the ecologic balance – on the future of this country and of our children."
The business advocacy group has also made a raft of recommendations to the government regarding some key measures that could solve the serious issues in this sector. It suggested for instance the enforcement of a 6-month moratorium to suspend forests concessions and exploitation permits and to re-examine the framework applying to such amendments.
In addition, AmCham has called for harsher penalties and controls for illegal logging and abusive retrocession and for the roll out of a national afforestation plan.
"Given the frequent floods and landslides of the last years that had catastrophic effects on certain regions of the country, the role played of the national forest area has become vital for communities, whereas the changes proposed under the new Forestry Code – especially the diminution of the land surface to be afforested by the Romanian State – do nothing but aggravate the situation and pose a risk to the safety of the population from the areas prone to such disasters," said the AmCham.
AmCham has over 370 members that are US, international and local companies, with total investments worth over USD 20 billion and generating around 200,00 jobs.
Ovidiu Posirca