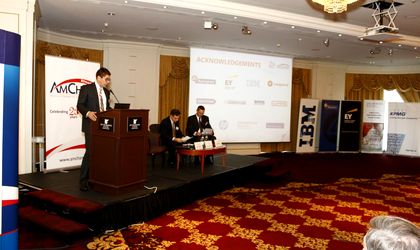 Business advocacy group AmCham Romania launched on Thursday an e-booklet outlining relevant information on the local business environment, in a bid to raise the profile of Romania as an attractive investment destination.
Valeriu Nistor, AmCham Romania's president, stated the guide was drawn up with extensive support from the professional services firm KPMG. He said the group supports the development of a dedicated one-stop-shop agency, which proved to be efficient in other countries.
"It's one of those things that should be done to help new investors come into the country," said Friday Valeriu Nistor, during the Case for Investing in Romania business conference, organized by the advocacy group.
The e-booklet presents in a nutshell the main legal and tax frameworks for businesses, in the same time outlining the financing options and the status of the property market. Nistor noted the guide will be updated regularly so as to offer a clear investment picture of the country.
AmCham included special chapters on the protection of intellectual and industrial property rights and the main legal issues stemming from the competition legislation.
During the same event, AmCham provided a series of recommendations to the local authorities, aimed at harnessing Romania's competitivity. They include the need for a predictable taxation system, reduced red tape and improved infrastructure. In addition, the group suggested the country needs transparency in the decision-making process and proper consultation between stakeholders prior to the enforcement of legal or fiscal changes.
AmCham's event had as key note speaker US economist Joseph Quinlan, author of the Case of Investing in Europe study.
He claimed Romania can attract investors by providing good conditions, including infrastructure and qualified staff.
He added Romania needs to enhance multinationals and the private sector, and in the same strengthen the capabilities of the ministries of trade or transport, citing America's experience in this field.
Quilan, who is bullish on the European economy, said the group of nations included in the Baltics and Balkans regions generate a lot of output, comparing it to a "next door mini-China" for Western Europe.
Ovidiu Posirca