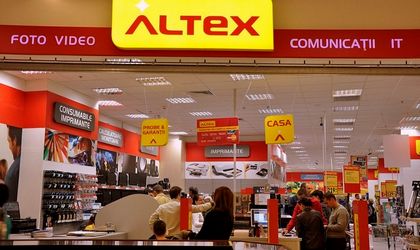 Altex Romania saw an increase of 30 percent in its turnover in 2015, going from EUR 322 million in 2014 to EUR 433 million at the end of last year, according to company representatives at a press conference. Moreover, of its sales of around 20,000 products per day, 20 percent came from online sales.
In terms of the best sold products, black goods (TVs) took the top spot, followed by IT equipment, telecom and entertainment gadgets. Furthermore, in 2015 Altex Romania offered former Domo clients post-sales services such as warranty and post-warranty services, according to Cristian Laza, vice-president Altex Romania.
For 2016, the company is looking at a software change and controlled growth. The company is also planning the opening of around 5-10 new stores, according to representatives. Moreover, Altex Romania is not excluding a possible expansion outside of Romania in 2017-2018. "Expansion could have a somewhat atypical shape for what we know of Altex and Mediagalaxy. Once the omni-channel strategy is implemented, markets can be attacked online, we can attack more markets simultaneously," said Dan Ostahie, CEO Altex Romania. "If you are successful in your own country, you are, in a sense, mandated to make this development in other countries too," he added.
As far as online shopping is concerned, "payment on delivery will remain an important payment method also because it is a tradition," pointed out Ostahie. "Online card payments are today hindered by the unnecessary security mechanisms that are generally introduced, the 3D secure," he further said, adding that "in other words, instead of encouraging card payments, we discourage it, and thus the weight of card payments in online sales is much less," of 10 percent.
For offline sales, however, "half of the transactions are by card," explained Ostahie.
As for possible challenges in 2016, both Romania's political future, with the two elections coming up, and the passing to pay law currently being debated, which will affect the real estate industry and thus could have a horizontal echo into the electro-IT market, are sources of concern, as pointed out by Ostahie.
Andreea Tint