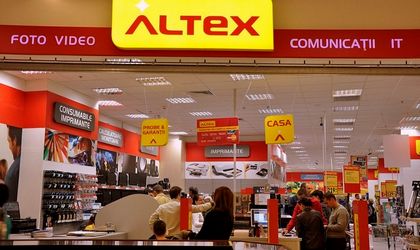 Altex reopened the store in the Iulius Mall shopping centre in Iasi, with a new concept of refurbishment of an area of ​​over 2,000 square meters, following an investment of EUR 500,000, announced the IT retailer.
Refurbishments for the space have been completed in less than two weeks, the new concept featuring islands for testing and demo.
Cusomers can order online or reserve products on the site and pick them up at the show room in Iulius Mall.
"We did not invest in a shop in Palas because of high costs of lease that would not have allowed us to support our promise to offer the lowest price in Romania. In addition, the remoteness of the parking space would have also been an impediment. At Iulius Mall we have parking right in front of the store which is an advantage over a showroom in Palas," said Dan Ostahie, CEO of Altex Romania.
The shop, boasting 16,000 products, is served by 30 employees.
Altex Romania, with a network of 75 stores nationwide, registered last year a turnover of over EUR 250 million, up 15 percent over 2013.
Natalia Martian