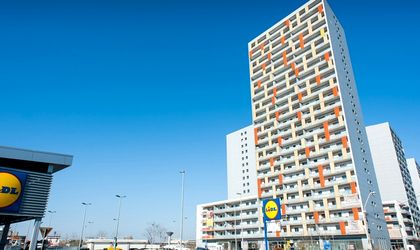 Alpha Real Estate Services, the manager of the Doamna Ghica Plaza and Green Vista Residence, announced it sold 60 units in the two projects, within its planned estimates. "So far we sold some 40 apartments in Doamna Ghica Plaza and 20 apartments in Green Vista Residence. The projects' repositioning and sales revamp have been accompanied by additional investments in both residential developments, investments targeting costs savings for the people living there (electricity, gas, maintenances, etc), […], security as well as kids playgrounds and green areas," said Iulian Calin, general manager, Alpha Real Estate Services.
Green Vista Residence is located in northern Bucharest, in Pipera. The complex has 258 apartments of 2, 3, 4 rooms and 6 penthouses, underground and aboveground parking spaces, playground and relaxation green areas, within 6 buildings developed on 9,130 sqm of land (2 buildings each with 10 floors and 4 buildings each with 9 floors).
Doamna Ghica Plaza is located in the North-East side of Bucharest, close to the newly built 4 lines boulevard connecting the district of Colentina to Pantelimon. The complex consists of 9 blocks (4 blocks of 4 floors, 4 blocks of 16 floors and 1 block of 24 floors) and it is equipped with two underground levels for parking spaces and storage areas.
Overall Alpha Real Estate Services has already built up a significant portfolio of clients acting in all fields of real estate holding properties valued at more than approximately EUR 100 million. Alpha Real Estate Services, recently re-branded from the formerly Alpha Astika Akinita Romania, is a subsidiary of the Athens Stock Exchange listed company Alpha Astika Akinita AE Greece.