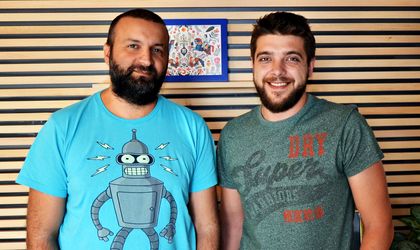 Bogdan Ionita is the new strategy director at Lowe Romania and is in charge with coordinating the research, planning and stratey teams, covering all communication (traditional, digital, BTL and experiential). Since taking over, he worked on campaign for clients like Gothaer, Johnson&Johnson, Scandia Food, Unilever, Veka or Zizin and contributed to winning new clients like AFI Palace Malls or SKOL. His appointment came shortly after Vasile Alboiu became chief creative officer (CCO) of Lowe Group, a position that sees him coordinating the activity of all group's creative teams. The formula managed by Alboiu insures a complete perspective, covering traditional creation, digital, PR and BTL, into a contemporary creative product. We talked with both of them in order to find more about the changes in the company and their perspective on the Romanian advertising market.
What are you bringing new to the Strategy Department?
Bogdan Ionita: A better understanding of "why". Why a campaign is needed, why consumers do what they do. And for that, a great amount of curiosity is needed in order to put things into a new perspective every day.
What are you bringing new to the Creative Department?
Vasile Alboiu: Something new and something old. The new comes from the fact that I want to bring more technology into our creative proposals. I believe we live in a world in which technology really changes the way we live our lives. That is why we try to integrate technology as much as possible in our ideas and concepts, but we do it in a seamless, natural way. Something old…and sometimes overlooked is the respect we have for our work. Sometimes we forget how important it is to do our jobs correctly, no matter in which industry we work.
What is our main goal? (e.g.: do you wish for a Cannes trophy?)
B.I.: To be part of impactful campaigns, to generate that spark for creatives that further generates actions in consumers' lives.
V.A.: Our main goal has always been the same and it's about making our team and our clients proud & happy to be sharing the same boat with us. It is of dominant importance for us to feel proud of what we do, to feel that our clients see us as a partner in their endeavors and to feel that we are doing the right things, at the right time and with the right results. If trophies are also collected along this journey, then things are as perfect as they can get J.
What do you intend to do differently?
B.I.: I don't know if this is different, but I intend to follow my "better than yesterday" philosophy in everything I do. From writing a brief to brainstorming with the creatives or analyzing a research, I intend to make a small positive change every single day.
V.A.: I believe that a creative department works as a team – whether in football, army or kitchen. And, as in any team, true power resides in unity. I don't really believe in people who want to make a name for themselves and forget they are part of a team. I also believe that practice is very important. Day by day we have to work our minds in order to able to be ready for the fight with the lions.
What are the main campaigns that you are happy about and why?
B.I.: The latest SKOL campaign because it really connects the product (and the product truth) with people's behavior.
The AFI campaign because it manages to break the clutter in the mall segment while staying true to the vision of the brand and its differentiator.
And also the Bucegi campaign, because it brings a twist (literally J) for the leader of the category (and a very dynamic one).
V.A.: I like the SKOL campaign "Ori bem bere, ori bem bere" because it is based on a very good insight and the word play is very relevant. Another campaign is the one we did this year with Pavel Bartos for Pate Bucegi, because when I want to eat a spread, I want to feel its taste first, then the bread. And of course the Orange rebranding because technology brought people closer to people and made them hold their hand… literally.
What are the best campaigns of 2014 and 2015 from the other agencies on the market? Is there any one you wished you had done yourself and why?
B.I.: I can't actually say I have a favorite campaign, but there are many from which you have something to learn, many that bring a new point of view in the category.  One big campaign that comes to mind right now is the Telekom launch, mainly for its amplitude. It had the greatest impact on the market and it was a launch to remember in the last few years.
V.A.: I like the Neumarkt "Gustul puternic si amarui" campaign because it brings humor naturally into the conversation and it speaks the target's language.
The 10 years Dacia anniversary – because the agency knew how to create a strong brand identity and how to bring it closer to Romanians everywhere.
How has the agency changed in the last years, from your point of view?
B.I.: The big change came mainly from bringing all the creative minds in our group in one single creative room – I don't just mean the physical room. The new creative formula headed by Vasi Alboiu brings a new perspective to our work with Lowe's clients, as it covers traditional, digital, experiential, PR creative ideas intro one single contemporary product. And this is something that gives a big competitive angle to our agency these days. We have a better flow now, we work together and are fully integrated, we learn from each other and there is no battle or difference of thinking between online and traditional anymore.  And it comes with twice as much fun.
V.A.: I believe the changes in the agency reflect the trends in the market. If 5 years ago we were working on TV ads and prints, now things have changed and we have to reinvent ourselves all the time. Technology is for sure the new direction – be it traditional, experiential, social media, PR, mobile or simple digital. What is constant is the need for good ideas starting from relevant insights. Maybe in the next 5 years, technology will not be such a hot topic, but quality creative work will remain important to the entire communication process.
What is the mindset of your everyday work? And the main challenges?
B.I.: Like I said before, my philosophy is about trying to be better than yesterday. About evolution. In everything I do, in every brief, presentation or research. That is also my challenge: to bring everyday a new, relevant perspective for the brands we are working with.
V.A.: To make the best we can in each job we have, because this is the way we respect ourselves, our clients and this is how we will make our work respected.
To do what we truly love and get paid for that is something of a rare bird. That is why, day by day, we try to never forget how lucky we are.
Sometimes coming with the best solution for our clients' problem can be complicated. The trust they bestow on us is what makes us go further. Also, the chance to be able to talk to the customer comes with great responsibility. Maybe the biggest challenge is to bring clients and consumers on the same side of the table and create the feeling they know each other and they can even be friends.
How did the idea of frank. about women come and how is the Romanian office involved in it?
B.I.: It all started over 10 years ago, when we realized the huge impact that women as consumers were beginning to have upon brands' understanding, engagement, sales and life cycle. Hence, the need for meaningful intelligence on women behavior was identified and a lot of efforts have been put in all these years by Lowe network into finding the best and most powerful insights on this category. This global tool signed Lowe basically helps all agencies in our network better, more deeply understand this enigmatic universe we call the female brain J . What frank. about women actually does is to understand the female psyche and women's evolving mindsets, behaviors and expectations and use all these in creating communication that drives women to engage with brands.
V.A.: I salute all efforts made in order to find genuine insights. As for the way in which the Romanian office is involved, we are very eager to take all learnings and try to implement them locally.
How will those findings translate in your work for the Romanian clients?
B.I.: frank. about women is an important source for us, as it gives us access to new information, researches and a view on behavioral trends throughout the whole world. When we place them in mirror-view with the local intelligence that we gather constantly from our own data and records, it gives us a surround, almost infallible perspective, which has big chances to generate THE insight we are looking to identify for great, awesome, game changing campaigns.
V.A.: I believe there are axioms which apply to all markets, not only in Romania or in the US. The way in which internet has changed consumers' behavior in Romania is relevant for all countries. In Romania, Facebook is the most important social network and Instagram is gaining market share quickly. Women, not only in Romania, have a slight repulsion towards technology, as it is proven worldwide. UGC is a must in Romania and an expert advice is very important in the shopping decision. More and more mobile subscriptions preferred by women offer special options regarding data traffic and the result is that any purchase is public on Facebook 5 seconds after it was made.
So far, what pieces of information from the study surprised you and why?
B.I.: If you read data about women in Tokyo or Sao Paolo you will find the most amazing facts J. But for instance did you know that, no matter where they come from, 9 out of 10 women seem to consider marketing-to-women efforts downright… distasteful? The biggest mistake is to presume we know what women do or think. We all make it. We need to be very smart and subtle in the way we communicate with this group if we want our brands to pass beyond and reach out to them. As frank. about women says, there's nothing more dangerous than using yesterday's pickup line on tomorrow's lady.
V.A.: In a world which tends to depend more and more on technology, bringing humans together remains the most important form of interaction. To hear someone's voice for real is definitely more important than seeing 5 emoticons and 3 short texts and any other instant messaging software. I found this insight surprising because it feels we are going back to the early 2,000s, when voice was everything for mobile operators.
How would you characterize the 2015 Romanian advertising market?
B.I.: I think that the market has a positive evolution, especially in the online and digital areas.
I see brands that start to be more and more responsive, that manage to build a relationship with consumers through these channels, focusing on their behavior and bringing relevant content to their communities or igniting conversations that matter to consumers.
V.A.: I believe 2015 to be dutiful. I haven't seen anything special. Maybe it is a settling down year. A year in which clients are reviving their portfolios and are talking to agencies. We had a lot of pitches and that is a clear sign that marketers are still looking around. Renowned brands have pitched important accounts and things are starting to settle down so maybe we will see more interesting work next year.
What drives you in your everyday activity?
B.I.: Passion and curiosity. Not only mine, but also those that come from my colleagues and basically surround me on a daily basis.
V.A.: The passion for what I do. I really like what I do and curiosity comes in 2nd. We work in an industry where each day is different than the other. Sometimes it may be tiresome, but it certainly is not dull.
Romanita Oprea