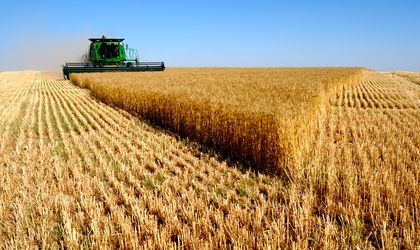 Compared to the previous year, 2014 brought a rise in the agriculture production by 2.9 percent, to RON 74.5 billion, according to data from the National Institute of Statistics (INS).
Vegetal production, reaching RON 49.05 billion, registered a 2.9 percent rise against 2013. Animal production increased by 2.5 percent to RON 24.5 billion. Agriculture services recorded the biggest increase, by 24.3 percent, reaching RON 985.5 million.
Concerning the structure of production, vegetal production dropped by 65.8 percent, while animal production and services rose by 32.9 percent and 1.3 percent respectively.
The structure of crop production separated of main groups of crops, is different in the two years. In 2014 compared to 2013, there was an increase in the share of vegetable crops (2 percent) and melons, fruit and grapes (1.4 percent), while a decrease was registered in the share of grain crops (2.1 percent) and fodder plants (0.4 percent). The weight of oil crops remained constant.
The structure of the value of animal production in the major product groups have small differences against the previous year. In sheep and goats share rose by 1.3 percentage points, in bovine the share increased by 0.6 percentage points while pig farming share fell 1.8 percentage points.
Agriculture production is determined according to the Eurostat methodology on "Economic accounts for agriculture" and includes: the value of all agricultural production (including the production of wine into agricultural units that have no industrial wine installations) and the value of agriculture services performed by specialized units.
Production of agriculture is expressed in basic prices (producer prices plus subsidies on products, less the taxes on products) each year.
Natalia Martian