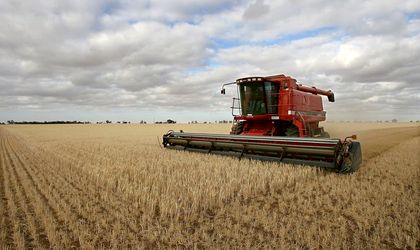 Early forecasts point to a good agricultural year in 2014 with most crops reaching higher production levels than last year. Moreover, this year will see the coming into force of the first measures of the National Program for Rural Development (NPRD) for the period 2014-2020, which promises better targeted investment projects and simplified application procedures.
Simona Bazavan
Seven years after Romania joined the European Union (EU) and local farmers cashed in over EUR 10 billion in EU funds, the country's agriculture sector has managed to register progress in areas such as cultivated surfaces and overall vegetal production.
This year Romania is expected to report a wheat production of some 7.37 million tonnes, below the initial estimation of 8 million tonnes, but still slightly above last year's level, according to data from the Ministry of Agriculture and Rural Development (MADR). Corn production is projected to surpass 11 million tonnes, which would make Romania the second biggest producer in Europe behind France. After Romania reported a positive trade balance for food products in 2013, for the first time in 20 years, albeit with the bulk of exports raw materials and not processed goods, a similar result could be achieved this year as well, hopes Daniel Constantin, Romania's agriculture minister.
A good sign that the local agriculture sector has been posting positive results overall in recent years and that it has even further potential for growth is grain traders investing in increasing their local footprint. The most recent of such investments came from the Romanian subsidiary of agribusiness giant Cargill. This August, the trader completed a EUR 15 million investment in partnership with local logistics operator Transport Trade Services (TTS) in increasing the capacity of its Canopus Star JV grain terminal in the Black Sea port of Constanta.
The terminal now has a storage capacity of 110,000 tonnes, up from 50,000 tonnes previously. Cargill's target is for the terminal to reach traffic of 1.5 million tonnes next year, said company representatives, while its capacity stands at 2 million tonnes/year.
Cargill first decided to invest in the Constanta port in 2008 because of its location and the strategic access it offers the region, said Martin Schuldt, product line leader for grains and oilseeds origination in Central & Eastern Europe at Cargill, during the opening event. The decision to increase the terminal's capacity was based on the growing demand and subsequent increase of local operations, said company representatives. Romania's grain production has been going up in recent years and a new record level is expected to be reached in 2014 as well, added Schuldt.
The increasing production has also boosted Romania's grain exports, according to data from the MADR. While, back in 2009, Romania exported 4.2 million tonnes of grain, the figure has now increased to more than 9 million tonnes, said Peter Nagy, state secretary at the MADR. Some 90 percent of this is exported via the Constanta port, he added.
New NPRD comes into force
This May the MADR launched the first call for projects under the new National Program for Rural Development (NPRD) for the period 2014-2020. The program regulates how local farmers can gain access to the EUR 9.85 billion available for investment projects for the period 2014-2020.
Under the first call for projects, farmers could apply through Measure 121 – the modernization of farms, for which EUR 150 million is available. Out of this, EUR 35 million has been allocated to family farms, and another EUR 15 million is being provided for the meeting of quality standards in the zoo-technical sector. The remaining EUR 100 million is divided equally between vegetal and animal farms with separate allocations for equipment acquisition and the construction or modernizations of facilities.
Overall, Romania's NPRD for 2014-2020 will include 15 measures, down from the 24 in the NPRD for 2007-2013, which should allow a better focus on the needs of local farmers, say the authorities. Special focus will be given to investments in production for both small and large farms, with a dedicated program for investments in orchards, the integration of production chains and incentives for young Romanians looking to set up a farming business in rural areas, according to previous statements by Constantin.
The new NPRD also comes with the promise of simplified and more flexible application procedures and less bureaucracy. As part of this attempt, an online application tool was made available this May along with a price reference list for equipment acquisition. The ministry has also committed to scaling back the control of beneficiaries to a minimum.
Starting this year, Romanian farmers will also receive higher subsidies in the form of the single area payment scheme. Over 2014-2020, Romania will have access to some EUR 10.6 billion in direct payments, up by 47.5 percent compared to the 2007-2013 period.
Despite the progress reported in recent years – which many argue was well below potential – there remain several deep-rooted issues in need of a solution. Romania may rank top in the EU for its overall crop production, but this is almost entirely dependent on weather conditions, and yields per hectare are some of the lowest in the region. The main factor behind the latter is the high fragmentation of land. There were some 3.86 million farms in Romania at the end of 2010, the highest figure in the EU, according to Eurostat. A staggering 97.7 percent were farms that cultivated less than 10 hectares or about 38.7 percent of the country's total agricultural land, according to the 2010 farming census. At the other end of the spectrum, large commercial farms cultivating areas of over 100 hectares represented only 0.3 percent of the total number of farms but 48.8 percent of the country's agricultural land.
However, despite such setbacks, Romania's agriculture has been for several years now, and continues to be, cited among the sectors that provide the most attractive investment opportunities. Cheap farmland and the available EU funding have caught the eye of both local and international investors to the point that it is estimated that more than 7 percent of the country's farmland is now owned by foreigners.