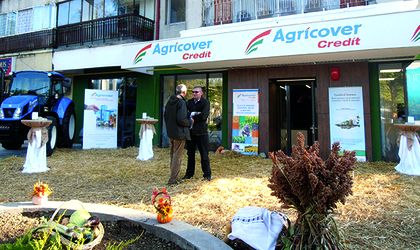 Agricover Credit IFN, a non-banking financial institution specialized exclusively on agricultural financing, announced during the first half of 2015 an operating profit of RON 14.07 million (EUR 3.18 million), 28 percent higher compared to the same period in 2014. The company posted a net profit of RON 10.2 million (EUR 2.26 million), 27 percent higher year on year, while its funds increased to RON 118.1 million (EUR 26.66 million) from RON 100.1 million.
The NPL portfolio reached a share of 1.2 percent of total loans, while the number of customers rose to 1,653, up 26 percent compared to the same period in 2014.
Exposure value reached RON 679 million (up from RON 580 million during H1 2014), while the capital adequacy ratio stood at 22 percent.
The first half of 2015 was marked by the launch of new products such as Corn Advance Loan Forward, a financing solution for farmers who choose to capitalize harvest under a forward contract to sell corn production. Under this agreement, farmers can receive a credit of 70 percent of the contract sale maize crop, following the repayment to be made in one instalment related to the harvesting period.
Vegetable and fruit growing areas, where yields are still below the European average, also benefit from dedicated products specialized for both finance working capital and investment.
Loan applications for agriculture are still on a positive trend, says the company. Meanwhile, farmers are cautious regarding accessing new loans in the context of a difficult agricultural year, strongly affected by weather conditions. Volatility of agricultural markets affect farm profitability plans and create an unsafe environment in making decisions and finding solutions for farmers.
"Agriculture is going through a difficult period, drought and market volatility affecting farmers' work. We continuously monitor the dynamics and evolution of agricultural markets and maintain a dialogue with our customers to find together solutions for financing to support farmers in the current business," said Robert Rekkers, general director of Agricover Credit IFN.
Agricover Credit IFN was launched in March 2008, insofar 300 clients currently benefitting from the financial products and services that we offer. Since its establishment and until the end of August 2009, the company has granted investments worth of 30 million euro.
Agricover Credit NBF provides a unique facility in Romania: the credit can be erased both in money and in products – for field crops. This is possible due to the integrated activity of the Group divisions, as well as due to the close collaboration between Agricover Distribution (which provides farmers with crop protection products, seed and fertilizers), Agricover Credit (which provides its funding) and Agricover Grain (which can take over harvest to extinguish debts).
Natalia Martian