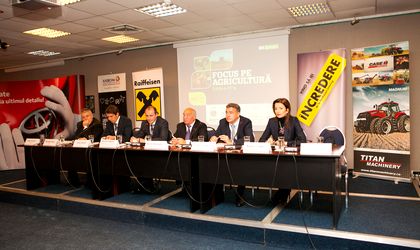 Fighting tax evasion, cheaper bank loans, support schemes for local producers and better adapting the future National Program for Rural Development (NPRD) to the needs of the local agribusiness sector were some of the most important topics discussed during BR's fourth Focus on Agriculture event, held during the INDAGRA farming trade fair.
By Simona Bazavan
A lack of vision in the way Romanian authorities chose to use the EU money available for agriculture between 2007 and 2013 considerably slowed down the development of the local agribusiness sector, complained participants at the event.
With a new NPRD for the 2014-2020 period coming into force next year, it is once and for all time to learn from past mistakes and move towards concrete development plans, they urged.
The future NPRD must offer local farmers investment opportunities better targeted at the realities of the local agribusiness sector, said participants. Proof that up until now the Romanian authorities have been more concerned about EU funds absorption rates than the way the money is being spent is the fact that local sales for agricultural equipment have been growing at an annual rate of some 5 percent per year, well below potential and the needs of local farmers.
"In Romania only about 1,800 new tractors will be sold this year while in Poland some 17,000 will be sold. Access to quality inputs is not enough to provide quality products. For this one needs to invest. If Romania manages to increase the amount of high-performance farming equipment a farmer has in his or her backyard, then we will definitely be on the right track," said George Stanson, business manager at Case IH&Steyer Balkans.
Shortcomings in the way EU funds were spent over 2007-2013 are also evident in local farmers' poor access to financing. Subsidies for small family farmers should have gone up significantly given the EU funds these farms were allocated, but this has failed to happen, said Adrian Raducan,  department manager in the structural funds department, corporate products and know-how management area, corporate business division at Raiffeisen Bank.
A clear development strategy with specific targets and the means to reach them would finally provide the right conditions to deal with deep-rooted problems like low productivity and competitiveness, concluded participants.
The latest from the authorities
Romania is currently in the process of drafting its NPRD for 2014-2020 and a final version will be sent to the European Commission by January 2014, agriculture minister Daniel Constantin has previously stated. The future NPRD could come into force in the second half of 2014.
Present at the event, Achim Irimescu, secretary of state at the Ministry of Agriculture and Rural Development (MADR), revealed some of the latest developments in the drafting of the NPRD.
He revealed that the scheme for 2014-2020 will feature a special sub-sectorial restructuring program dedicated to investments in orchards which will be allocated EUR 200 million of EU funds. Local authorities said earlier this year that Romania was planning to include three sub-sectorial restructuring programs – for orchards, mountain areas and milk producers – in its forthcoming rural development program. The secretary of state suggested that most likely only one program, the one for orchards, will be included in the NPRD for 2014-2020.
Another recent development is that the authorities are considering lowering the maximum EU grant young farmers can receive to set up a farm in rural areas from the initially proposed EUR 70,000 to EUR 50,000. This is intended to allow a greater number of farmers access to the grant, explained Irimescu.
During the debates, participants raised specific issues they had faced in the process of accessing EU funds and complained that APDRP public workers often act like police officers, more concerned with exposing irregularities than with helping applicants. Nicolae Popa, deputy general director of the Agency for Payments for Rural Development and Fishing (APDRP), admitted that the evaluation of projects submitted for EU funding over 2007-2013 "wasn't the best" and said that there are plans to simplify procedures, reduce bureaucracy and cut red tape during the coming financial period. He revealed that up until now some projects have taken more than a year for APDRP workers to evaluate. Understaffing is a problem, he said, but so is the performance of some of agency's employees.
Stamping out tax evasion
An important topic during the debates was tax evasion on foodstuffs. Referring to the recent investigation led by the Romanian authorities into a EUR 50 million tax evasion case involving food products, Stefan Padure, executive director of the Romanian Meat Association (ARC), said that it was "the first time in 20 years when the authorities had addressed the issue in a thorough manner in order to help create a fair business environment". This is the only way to ensure products on the market are safe and raise the money needed to counterbalance the VAT cut, he added. From the second half of 2014, VAT on meat and meat products could be reduced from 24 percent to 9 percent, as was done for bread products, said Padure.
Elsewhere, on the sugar market, tax evasion engulfs about one fifth of sold volumes, said Emilian Dobrescu, president of the Romanian Sugar Association. The black market for sugar is mostly fuelled by intra-community trade, he explained. Addressing the issue of tax evasion becomes even more pressing considering that from 2017 the EU will drop the production quotas which regulate the sugar market at present. This will mean additional competition for the local sugar industry, stressed Dobrescu. Cutting the VAT for sugar and reversed taxation would help reduce the phenomenon alongside more effective oversight from the authorities, he recommended.
A plea for quality
Romania's joining the EU has brought about opportunities for local producers to reach their potential but means they are operating on a highly competitive market. Whereas European farmers and producers are making good use of the tools and support schemes that EU membership offers them, local producers have yet to follow suit.
"We have been EU members since 2007 and are not yet using all the tools that the EU offers producers. (…) We don't have to reinvent the wheel; we only have to learn from the experience of our European counterparts," said Padure. "Because we are lagging well behind others we have to follow in their steps. This can be an advantage. We can adopt know-how, technologies – everything we need," added Camelia Sucu, local entrepreneur and owner of the Abundia wholesale market for agricultural products.
Some of these untapped resources are the EU's specific quality schemes which enable farmers and producers to build on high-quality reputations to sustain competitiveness and profitability. Sonimpex, the company that produces the Topoloveni magiun (Romanian for plum jam), is the only Romanian producer to benefit from the funds available through these schemes so far.
In 2011, Topoloveni plum jam became the first Romanian product to make it onto the Register of Protected Designations of Origin (PDO) and Protected Geographical Indications (PGI).
No others have yet joined it. "It is very sad that we are the only one. Alongside a Greek producer we received EUR 4.5 million – made up of EU funds and a national contribution – for the promotion of products certified as traditional. We received the funds for the plum jam, the Greeks for their cheese," said Bibiana Stanciulov, the company's GM and owner.
Some 4,400 Romanian products have been certified as traditional produce by the Ministry of Agriculture and Rural Development, she added. "I find it very hard to believe that there aren't at least a few local businesspeople who would consider investing in these products," she commented.
The support offered by the EU's quality schemes is vital for the development of local producers, said Padure. "Europe has realized that money is necessary to support the growth of traditional and national products and the money is available through these schemes and is very easy to access. There is the potential for 2,000 Romanian products to be upgraded at EU level," he added.
Another measure that would support, promote and encourage local producers to come up with quality produce and foodstuffs is the introduction of labeling regulations that would make it mandatory to specify the origin of all ingredients a product contains. "I strongly believe that when traceability labeling is introduced (…) then we will solve the financing issue, tax evasion and much more," said Stanciulov.
simona.bazavan@business-review.ro­