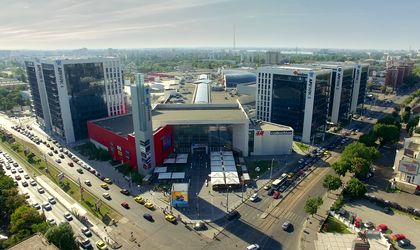 Real estate developer Afi Europe Romania reported a net operating income (NOI) of EUR 22.2 million for the first half of the year, up by 13.1 percent y-o-y, the company announced this Tuesday. The Afi Palace Cotroceni shopping mall, the developer's flagship project on the local market registered a EUR 16.5 million NOI which was higher by 8.6 percent against the first semester of 2015.
The retailers present in the mall saw their combined sales amount to over EUR 112 million in the first six months of the year, marking a 14 percent increase y-o-y. The 80,000 sqm mall (GLA) also reported 5.5 percent more visitors in H1 while its occupancy rate stood at 99 percent.
Afi Palace Cotroceni was opened in 2009 and to this day it remains the biggest and most important asset in the developer's local portfolio. AFI Europe owns a second mall in Romania – AFI Palace Ploiesti – which it opened in October 2013 following a EUR 50 million investment. The shopping mall's NOI was up by 8.1 percent in H1 y-o-y, totaling EUR 2.2 million. Its tenants' combined sales went up by 19 percent while the occupancy rate stood at 99 percent.
On the office segment, the developer's office park, Afi Park, saw its NOI skyrocket by 48 percent to pver EUR 3.8 million after its last phase, Afi Park 4&5, has been delivered. The first three buildings part of the 70,000 sqm office park are fully leased while Afi Park 4&5 is 70 percent occupied.
Following positive results in the first semester, Afi Europe is getting ready to start works on several new projects on the local market: a mixed retail (45,000 sqm) and office project (25,000 smq)  in Brasov, a second office park in Bucharest – AFI Tech Park (50,000 sqm), and a residential project, the developer's first of this kind, AFI City, which will be located in the north-western Bucharest, according to its CEO, David Hay.
Afi Properties, the company which controls Afi Europe Romania, reported EUR 38 million in profits in H1, up by 190 percent y-o-y. It controls over 200,000 sqm of commercial spaces in Central and Eastern Europe.
Simona Bazavan