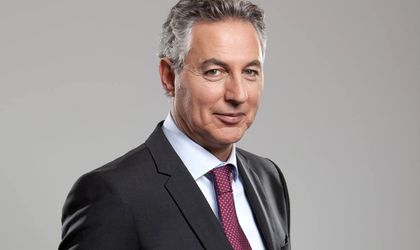 Finishing two more AFI Park office buildings, starting the construction of the remaining two and opening a cinema multiplex and entertainment area in AFI Palace Ploiesti are the main tasks on the agenda of AFI Europe Romania CEO, David Hay, this year. Confident and optimistic about the market's rebound and ongoing potential, the real estate developer and investor is also looking at buying land for more retail projects and is getting ready to invest in residential, Hay told BR.
[restrict]
Simona Bazavan
How do you see the real estate market evolving this year and are there signs of any significant changes?
A lot depends on the general situation of the economy. According to pundits, this year should be better than last year. The psychological effect of this and its effect on people and on the market are also important. If we see improvement in Europe and improvement in Romania, this will influence the real estate market. Also, one of the major things that need to be improved in order for the real estate market to bounce back is the issue of the financing and the availability of bank financing. This is again important, but it remains difficult. It is not easy but I hope that this year will mark a change.
Are there signs that this is improving?
I see some change in the banks' attitude. I cannot say this is the beginning of a trend but I feel something is beginning to change and I hope that it will change this year because this will allow more projects to be developed. It will remain limited, meaning that it will not be available to all developers or for all projects, but nevertheless it will be more available than before.
What sort of real estate projects are most likely to secure financing right now?
I think that office projects with a good prelease rate, a good location and a good developer remain the best candidates for financing in the eyes of banks.
What about financing for the two AFI Park office buildings you will finish this year?
We haven't signed it yet. The second building is financed 100 percent from our equity and we estimate that we will secure the investment loan for this second building and the development loan for the third building next month (e.n. in March) or the month after, at the latest. Let's say banks are giving today 6 to 7 percent loan-to-value or loan-to-cost. These are the terms in general. I cannot give you more details, but the first building cost approximately EUR 20 million.
What is the prelease rate of these office buildings?
Building number two is 100 percent leased to Electronic Arts and 40 percent of building number three is leased to Endava. We are currently negotiating an additional 20 to 30 percent prerelease to another company.
So is it mainly IT companies driving demand at present?
Yes, in the office segment we're seeing more interest from IT companies and also from BPOs. They have almost exhausted Poland and Romania is next in line. We're seeing a lot of interest from BPOs in large surfaces and I'm talking 3,000 to 6,000 sqm. In Romania there is still a lot of available office space for them and the workforce in Romania I think is even better than in Poland. This is something that I have said many times before – Romania's young generation is very, very professional, well educated, very hardworking and with good language skills. We will definitely see more BPOs entering the market this year and also a greater number of IT companies. There will be newcomers but also the expansion of existing players.
This will drive up activity on the office segment. And there are new projects being developed. We are coming with buildings number two and number three of AFI Park, we are starting building four and other developers, especially in the Barbu Vacarescu area, are delivering office space this year.
Any signs of saturation?
No. There is demand, coming especially from IT companies and BPOs – newcomers and the expansion of existing players – as I said. A good example is Electronic Arts which has expanded to 12,000 sqm, which is a lot. Yes, there is room for more office buildings.
If you look at the vacancy rates by area, you will see that rates of about 16 percent are really limited to Pipera and class B buildings. If we look at class A office projects in this area (e.n. center-west Bucharest) or Barbu Vacarescu, the vacancy here drops to around 4 percent. So it depends on the location and type of building. If you are developing a project in a good location and it is a class A building, there will be tenants.
When will you complete AFI Park and what will come next on the office segment?
We will hopefully start buildings four and five next month (e.n. in March) and these will be delivered in Q3 or Q4 of 2015.
Then we will start AFI Business Park which is opposite Vulcan. We hope to get all the permits by the end of this year because we have changed the concept, and we hope to start the first building at the beginning of next year. It will have around 16,000 sqm GLA and could be finished by mid-2016. AFI Business Park will be built in three phases, each of about 16,000 sqm GLA. When will we finish it? If you had asked in 2011, when we started AFI Park, when we would finish that, I would have said later than we actually did. If we continue in the same rhythm, I will be satisfied.
We are very satisfied with AFI Park. It is a great project even though before we started it, people said there was nothing here. All the activity was in Barbu Vacarescu and Pipera, not in the center-west. But we believed in it, we saw the potential and we managed to bring companies here by giving them the right product in the right location. We hope that we will be wise enough to do the same with AFI Business Park.
Are you focusing on office right now? What about retail developments?
We are not abandoning retail, not at all. On the contrary, we have two projects that we need to develop. One is AFI Palace B. Noi and the other is the AFI Palace Arad retail park. We need to develop them, we believe these are good projects and we are very optimistic we will start construction this year. It depends on many factors – financing, leasing, and permitting.
Last year we opened AFI Palace Ploiesti and we are very happy with the results. In April we plan to open a Cinema City multiplex there and also an entertainment area. We are also looking to start new retail projects, both in Bucharest and outside. We hope to close at least one deal to buy land for such a development this year.
What will AFI Europe's next Bucharest mall look like?
It will not be as large as AFI Palace Cotroceni but larger than AFI Palace B. Noi. I can't give details about the location. What I can tell you is that it will not be near projects such as Mega Mall or ParkLake.
What cities are you considering outside the capital?
We are looking at one of the big secondary cities. This is what I can tell you for now. Some of them still have potential for retail developments. We hope to close one deal to buy land to develop a shopping mall outside Bucharest in one of these cities.
Is it a good time to buy land? By how much have prices dropped?
Yes, it is a good time to buy. As for prices, it depends. Many land owners who bought before the crisis are still very hesitant to sell unless they are pressed by banks. Prices have gone down by 10, 20 percent, in some cases 30 percent, but not by more, especially when we are talking about good locations. A good location is one of the key ingredients in developing a successful shopping mall.
What about residential developments?
It is in the cards. Not for the next year, for sure, but the market will change. We see this and we are getting ready for when it does.
It could take one, two or three years, but it will change. Right now the demand is, let's say, only for apartments that qualify for the Prima Casa scheme. We're hardly seeing any sales outside of this. The market will move past this when people feel more secure and are ready to take risks.
We have enough land for residential developments in our portfolio in Bucharest. We are working on the concept and the permitting but I cannot give you a clear timeline for this. We target the mid-market – two- and three-room apartments – but we plan to offer above average standards. It will be a large-scale development of at least a few hundred residential units developed as an integrated concept.
Any plans to sell any of your local assets?
No, but you never say never. If someone comes and offers an excellent price, we will consider it. But we are not in the market and we are not looking for buyers. From time to time there are approaches from players who are not presently on the market. Generally speaking, there is interest from large international private equity funds. It started last year and continues this year. Last year we didn't see any deal apart from NEPI, but they for me are like local investors. I hope that this year will see a deal involving one of these big international players. This is very important for players in the office and retail market.
What can you tell us about the results reported by AFI Palace Cotroceni in 2013?
The final numbers are not yet out but we continued to grow. Al indicators went up. We are very happy with the project. We opened it at the height of the crisis but it has performed very well. The target is to improve it even further. We have changed the tenant mix a lot over the years and more changes lie ahead.
[/restrict]