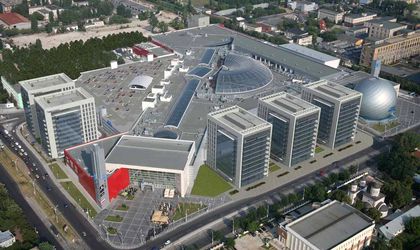 AFI Europe Romania financial results for Q2 and H1 show over 8 percent increases, according to company representatives. Thus, the company posted a net operating income or EUR 10 million (up 8.3 percent) in Q2 and close to EUR 20 million in H1 2015 (up 8.4 percent).
With an occupancy rate of 99 percent, AFI Palace Cotroceni shopping mall in Bucharest, the company's largest and most important asset, generated in Q2 a net operating income 7 percent higher against the same period of last year (EUR 7.8 million) and retailer sales (excluding the hypermarket) 6 percent higher.
The first half of the year also showed positive results both in terms of net operating income, up 4 percent (EUR 15.2 million), and retailer sales, up 7.5 percent against the first half of 2014.
AFI Palace Ploiesti shopping mall reached a net operating income of over EUR 2 million for H1 2015. The mall results show a significant increase in retailer's sales which grew by 20 percent compared to the same period of 2014. Current occupancy rate of the shopping mall in Ploiesti remains stable at 99 percent.
"AFI Europe Romania has concluded Q2 and H1 of 2015 with excellent operational and financial results as shown by the growth in NOI of our income generating assets in Romania by 8.4 percent. Currently the portfolio in Romania consists of 150,000 sqm of leasable areas with an average occupancy rate in all income producing assets of over 98 percent. Additional 32,000 GLA are to be added to the portfolio upon the completion of AFI Park 4&5," said David Hay, AFI Europe Romania CEO.
AFI Properties, the parent company of AFI Europe, has registered steady profits of EUR 14 million in H1 2015, similar to the same period last year. With a net operating income of EUR 21.2 million, the company saw a 3 percent decrease year on year, due to the sale of the mall in Pardubice in the Czech Republic. For Q2, its operational profit increased by 62 percent to EUR 20 million against Q2 2014.
Through its subsidiaries AFI Properties is currently developing 90,000 sqm of offices (32,000 sqm in Bucharest) and 500 residential units.
AFI Europe operates in Romania since 2005. The company has developed and is managing AFI Palace Cotroceni, spreading over a leasable area (GLA) of more than 81,000 sqm and offering a variety of over 300 shops of local and international brands, visited by 52,000 customers per day.
In October 2013, AFI Europe inaugurated AFI Palace Ploiesti following an investment of over EUR 50 million. The shopping mall offers a total GLA of 33,000 square meters spreading over two retail floors occupied by 100 national and international brands, including more than 7,000 sqm of entertainment.
Adjacent but fully integrated into AFI Palace Cotroceni shopping mall, AFI Europe Romania is currently developing AFI Park, Bucharest's newest Class A business Park, boasting a 100 percent occupancy rate. AFI Park offers more than 70,000 of office leasable area: AFI Park 1 has 12,250 sqm of GLA, AFI Park 2 has a 12,200 sqm GLA, while AFI Park 3, delivered in December 2014, covers a 12,250 sqm area.
In April 2014 AFI Europe Romania has also started construction of AFI Park 4&5 office building that will offer an additional 32,000 sqm of gross leasable area to the project and is planned to be delivered in January 2016.
In July 2015 AFI Europe has signed an agreement to purchase a 40,000 sqm plot in the City Centre of Brasov for the development of a 45,000 GLA shopping mall and 11,000 GLA office project.
In addition, AFI Europe Romania has two mix use projects to be developed in the near future on the company's 80,000 sqm land plot in Arad and 148,000 sqm land plot in Bucurestii Noi district 1 of Bucharest.
In the office segment, AFI will develop AFI Business Park Bucharest, a 50,000 sqm of GLA class A business park to be located in close proximity to the J.W. Marriott hotel and the Romanian Parliament in Bucharest's district 5. The business park will comprise of 2 low rise office buildings and one office tower, with ample green areas, a high tech/campus style environment in an urban complex with a central plaza and gardens.
AFI Europe's portfolio consists of shopping malls and retail properties, business parks and large-scale residential and mixed-use developments. AFI Europe operates in Romania, Czech Republic, Poland, Germany, Bulgaria, Serbia, Hungary and Latvia.
It is a subsidiary of AFI Properties, a member of AFI Group, an international holdings and investments conglomerate with subsidiaries that engage in real estate, construction, infrastructure, industry and hotels. It is active in the income producing and development property market since 1971 and it has been listed on the Tel-Aviv stock exchange since 2004. The company has been active in Europe since 1997 through its subsidiary AFI Europe mainly in the CEE markets. AFI Properties is ranked "BBB+ positive" by S&P and "A3 stable" by Midroog (a subsidiary of Moody's).
Natalia Martian