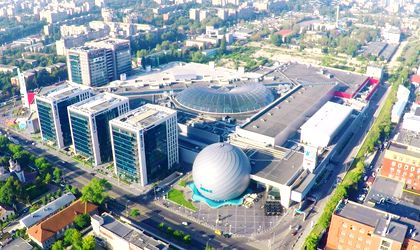 AFI Europe Romania reported a net operating income (NOI) of more than EUR 40 million in 2015 from its income producing assets in Romania, according to a press release by the company. The results were 8 percent higher than the values registered in 2014.
AFI Palace Cotroceni Shopping Mall in Bucharest, the company's largest and most important asset, generated an NOI 3 percent higher compared to 2014, reaching close to EUR 31 million in 2015. During the last quarter of the year the shopping center brought in EUR 8 million for the company.
When it comes to turnover, AFI Palace Cotroceni (excluding the hypermarket) registered numbers higher by 9.3 percent in Q4 and by 8 percent in 2015, compared to the same periods in 2014.
AFI Palace Ploiesti also posted positive results, with a NOI of more than EUR 4 million (up 6 percent over the previous year), while the mall's turnover went up by 24 percent in Q4 2015 and by 23 percent in 2015, y-o-y.
"Following the completion of AFI Park 4&5 the portfolio in Romania increased to 180,000 sqm of leasable areas. AFI Palace Cotroceni has completed during 2015 two expansions while additional expansions in Cotroceni and Ploiesti shopping malls are planned for 2016. The good financial results coupled with positive microeconomic numbers of Romania encourage us to start more projects, as the new shopping Mall to be developed in Brasov (45,000sqm GLA) and the Office Park to be developed on Progresului Boulevard in Bucharest (50,000sqm GLA), both are planned to commence construction this year," commented David Hay, CEO AFI Europe Romania.
AFI Properties, the parent company of AFI Europe, signalled profits of EUR 50 million and a NOI of EUR 81 million for 2015, while its operational profit increased in 2015 by 15 percent to EUR 112 million compared to the same period in 2014. AFI Properties announced dividend distribution for 2016 and 2017 to its shareholders of EUR 55 million following more than EUR 60 million distributed last year.
AFI Properties currently owns more than 550,000 sqm of income producing assets. The company has been active in Europe since 1997 through its subsidiary AFI Europe mainly in the CEE markets.
AFI Europe operates in Romania since 2005. The company has developed and is managing AFI Palace Cotroceni (82,000 sqm GLA shopping center), AFI Palace Ploiesti (33,000 sqm shopping center) and AFI Park (70,000 sqm office buildings).
The company has plans for several projects in Brasov (a 45,000 sqm GLA shopping mall and 20,000 sqm GLA office project), in Arad (a retail park on a 80,000 sqm plot), in Bucurestii Noi (a mixed use project on a 148,000 sqm plot) and in Bucharest (a 50,000 sqm business park).
Natalia Martian