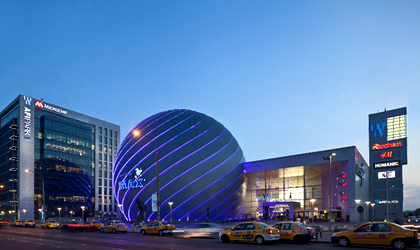 AFI Europe Romania posted a net operating income (NOI) of EUR 10.2 million in Q3 and close to EUR 30 million in the first 9 months of 2015, according to the company's financial data, showing an 8,2 percent increase in results y-o-y.
AFI Palace Cotroceni Shopping Mall in Bucharest, the company's flagship asset, generated EUR 7.7 million in Q3 2015 (3.3 percent higher y-o-y) and EUR 23 million in the first 9 months of 2015 (4 percent higher y-o-y) in NOI. Retailer sales (excluding the hypermarket) increased by 7.3 percent in Q3 and by 7.4 percent in the first 9 months of 2015, compared to the same periods in 2014.
The company's shopping center in Ploiesti generated a net operating income of EUR 3.2 million for the first 9 months of 2015 (up 7 percent year on year) and showed significant increase (28 percent in Q3 and 23 percent during nine months) in retailer turnover against the same periods of last year. AFI Palace Ploiesti has reached a 99 percent occupancy rate.
"Currently the portfolio in Romania consists of 150,000 sqm of leasable areas with an average occupancy rate in all income producing assets of over 98 percent. Additional 32,000 sqm of GLA are to be added to the portfolio upon the completion of AFI Park 4&5 in January 2016. The good financial results coupled with positive microeconomic numbers of Romania encourage us to start more projects during next year such as: the new shopping Mall to be developed in Brasov (45,000 sqm GLA) and the Office Park to be developed on Progresului Boulevard in Bucharest (50,000 sqm GLA), which are planned to commence construction in 2016," said David Hay, CEO of AFI Europe Romania.
Total value of the completed projects, shopping malls AFI Palace Cotroceni, AFI Palace Ploiesti and the first 3 office buildings of AFI Park, increased to close to EUR 600 million as of September 30, 2015, the company announced. The Bucharest shopping mall was valued at EUR 434 million, while AFI Palace Ploiesti at EUR 67.7 million, both showing an increase in value over the previous year.
AFI Europe operates in Romania, Czech Republic, Poland, Germany, Bulgaria, Serbia, Hungary and Latvia.
AFI Properties, the parent company of AFI Europe and part of AFI Group, posted profits of EUR 34 million in Q3 and EUR 46 million for the first 9 months of 2015 and net operating income of EUR 20 million for Q3 2015 and EUR 61 million for the first 9 months of 2015.
Currently, AFI Properties through its subsidiaries is developing 75,000 sqm of offices (32,000 sqm in AFI Park 4&5 in Bucharest) and 575 residential units in addition to several hundreds of thousands of sqm which are currently in design phase. The company currently owns 548,000 sqm of income producing assets.
Natalia Martian