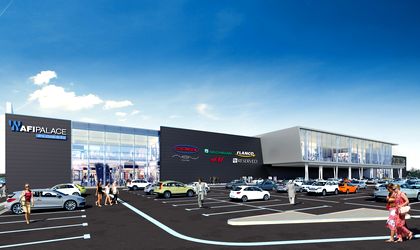 Real estate development company Afi Europe Romania has secured a EUR 30 million loan from Raiffeisen Bank International Group to complete the construction of the Afi Palace Ploiesti shopping mall.
The 28,000 sqm project should be officially opened on October 3 this year and is promoted as the first modern shopping mall in downtown Ploiesti.
However, the project will be the second of this kind in the 200,000 inhabitants city after in November 2012, Carrefour and New Europe Property Investments (NEPI) have opened a 55,000 sqm shopping mall on the city's outskirts. Ploiesti Shopping City is located close to the National Road 1 (DN1) which connects Bucharest to the Prahova Valley and required a EUR 65 million investment.
AFI Palace Ploiesti is being built on the Gheorghe Doja Street and will host some 100 shops. The project is so far 70 percent leased and future clients will include Cora, Flanco, H&M, New Look, Reserved, Mussete, Timeout, Collins, Nike, Aldo, Motivi, Otter, Lee Cooper, Il Passo, B&B, Jolidon, KFC, McDonald's, El Bacha Restaurant, Quasi Pronti, Pizza Dominium, Thang Long and Pizza Bonita.
Simona Bazavan