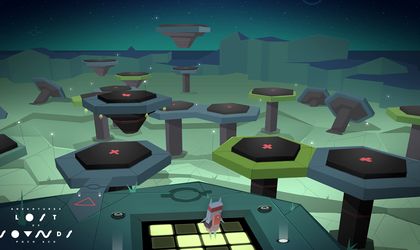 Adventures of Poco Eco: The Lost Sounds, created by POSSIBLE CEE has been declared one of the most addictive mobile games in the world, in 2016, according to Splatter.com.
The international publication considers that Adventures of Poco Eco is a not to be missed game in 2016 and one that you must play, once you picked it up being hard to let it go out of your hand.
"Adventures of Poco Eco – Lost Sounds" is one of the most visually appealing games available in the iOS App Store. Its unique art design and bold color palette have some comparing it visually to the critically acclaimed game "Monument Valley."In this game, you help the curious explorer Poco Eco on his search to find his tribe's lost sounds. To assist Poco Eco on his mission and restore the sounds of his tribe, you must complete 12 different levels that include clever 3D puzzles. The world of "Lost Sounds" is built around a mixture of electronic music and design, which creates a relaxing atmosphere," explained his choice Ryan McNeal.
Moreover, by downloading the game you gain access to the new musical album produced by iamyank, called "Lost Sounds", that is also the soundtrack of the game.
"Adventures of Poco Eco: The Lost Sounds" is the winner of numerous international important awards in 2015: Wood Pencil at "Digital Marketing" – "Games" at D&AD Awards, Grand Prix at Lollipop Awards and Golden Blade, Gold at ADCE Awards, Lollipop Awards, Golden Blade, Communicator Awards, KYIV –  sections Digital Craft and Mobile Apps, at Pocket Gamer; Silver at Epica Awards, Communicator Awards and Golden Blade, Bronze at Cannes Lions, Clio Awards, Epica, Golden Drum, Golden Hammer, Golden Blade. More than that, the game was a finalist at New York Festivals in the categories "Games" and "Branded Entertainment. I believe that these accolades already prove and say more than we ever could about its quality and what we can do at POSSIBLE.", said Stefan Iarca, Country Manager POSSIBLE Romania
POSSIBLE Games, part of POSSIBLE CEE , is also famous for games and apps such as "Small & Furious", "The End App", "Die Hard Game", Totoya Creatures.
POSSIBLE CEE is a full-service digital agency with more than 18 years of experience, that has in its portfolio regional clients such as: Tesco, Carrefour, Air France KLM, Sanofi – Aventis, MOL, Accenture Services, 1Hotels, Delaco, P&G, Coca – Cola, Telenor, Raiffeisen Bank, ATV, Minimax, Generali, AXA, etc.
In Europe, POSSIBLE has office in UK, Poland, Hungary, Romania and Russia.
Romanita Oprea