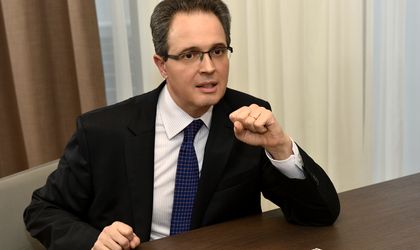 French hotel group Accor is preparing to kick-start a new development phase on the local market, Laurent Picheral (photo), CEO of hotel services Germany, Poland and Central Europe with Accor Group, tells BR.
By Simona Bazavan
After Polish hotel group Orbis, of which Accor owns 53 percent, took over the management of the Accor hotels in Central and Eastern Europe, the French group is now preparing to enter a new development phase in Romania.
"Romania has huge development potential but up until now this has been too slowly exploited. Now we are entering a new era and we have a new approach to development. Accor is the number two on the local market in terms of rooms, but we want to become number one," Laurent Picheral, member of the Accor executive committee and of the Orbis supervisory board, told BR.
In short, the group plans to double its local presence over the next five years, an ambitious target judging by the fact that the four-star Mercure hotel inaugurated last November was its only new opening in more than six years. In addition to this, the French hotel group has six other hotels in Romania, four Ibis units, a Novotel and a Pullman. Of all the seven hotels Accor owns only one location, the Novotel, with the others operated under franchise or management contract.
Now, Accor is not only looking to considerably speed up expansion through new franchise and management deals but is also planning to invest its own capital in hotel development on the local market.
Why this change of approach? "We have created within Accor two structures – hotel service and hotel investment. Before, development was to be done only via franchise or management. These structures now give us much more strength and we are ready to become one of the biggest investors in the hospitality sector in Europe. So, is Accor ready to invest, to buy something here? The answer is yes. We are open to any opportunity to find a nice return on capital employed," said Picheral.
Considering that four- and five-star hotels represent over 80 percent of the local hotel market, Accor sees development potential on what Picheral calls the mid-scale economic segment where it has several brands it could introduce locally, he added. "There will be new brands, like Mercure for example. Of course Ibis is very well known and so is Novotel and Pullman. These are brands that are already established in Romania. But we are interested in a stronger Mercure presence and the introduction of new brands such as Ibis Styles which is a very joyful, trendy, dynamic brand – very much in the same way life in Romania is," he went on.
Accor is considering opening new hotels in Bucharest as well as outside the capital. "Romania is a big country with a big population. One can have a mix of pure leisure in the Black Sea or in the western part of the country and business in Bucharest. Overall, the market offers a very good balance between leisure and the MICE (e.n. meetings, incentives, conferencing, exhibitions) segment and this is a huge advantage. There is also the domestic market which is an important base. We are interested in a market that is not totally dependent on the international market," said Picheral.
All this and the country's economic growth over the past years puts Romania's on Accor's expansion map, he added. "Romania is a very dynamic market with great potential. I am quite convinced that we have to ride this wave now. Ten years from now it will be too late," he added.
A touch of Bucharest
The four-star Mercure hotel in Bucharest opened last November following a EUR 9 million investment, said representatives of the Dogariu family, which owns the hotel, at that time.
They also own the Dentotal Group which in addition to private dental healthcare has invested in the import and distribution of dental equipment. The owners' only other real estate investment is a five-storey office building where the Dentotal group of companies is headquartered. Should the Mercure hotel post positive results, the Dogariu family will consider similar investments, they said last November.
The owners expect the hotel to generate an annual turnover of about EUR 600,000 to EUR 700,000 and to recover the EUR 9 million investment in about seven to ten years. Out of the entire sum invested, EUR 6 million was a loan from Garanti Bank.
Mercure is a non-standardized midscale hotel brand owned by Accor, which enables each unit to be customized. Given that the 114-room hotel is located on George Enescu Street in downtown Bucharest close to the Romanian Athenaeum, the management has opted for a music-based theme.
In addition to the 114 rooms, the hotel also features three conference halls and a restaurant.