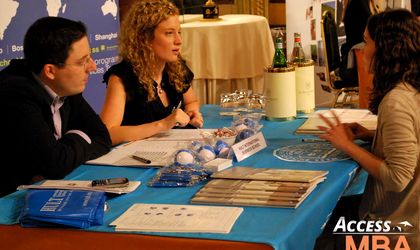 Access MBA and Access Masters tours represent a series of events that take place biannually in over 55 cities around the world. The tours bring together elite international business schools and high-caliber candidates. Over 120 top business schools trust our organization to promote their MBA and Master programs all over the world, making it the leader in "One-to-One" MBA and personalized Masters events.
Access MBA gives business professionals around the world the opportunity to meet with leading international MBA programmes. By registering for the One-to-One event, your profile will be hand-selected and matched to the best business schools for you by our team of expert consultants.
Unlike a regular education fair, the Access MBA One-to-One Tour provides the exceptional service of allowing motivated and qualified candidates to discuss their educational expectations and career plans individually with Admissions Officers from highly-ranked business schools.
The Romanian event will be organised on April 26, at the Hotel Raddisson Blu.
On the day of the event, you will: 
– Meet Admissions Directors during private 20-minute meetings
– Take part in Panel Discussions featuring school representatives and alumni
– Get advice and support from our Access MBA consulting team
– Obtain GMAT and scholarship information
– Gain insight into the MBA admissions process
Register before April 24th to get an early evaluation of your profile and secure one of the limited places for One-to-One meetings. Free registration here!
The Spring tour also includes the following dates: