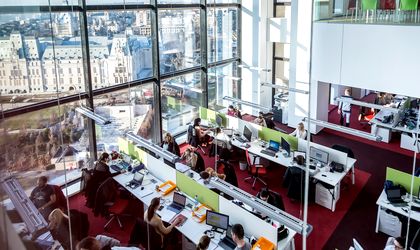 Consultancy and management services provider Accenture has rented 1,000 sqm within the Palas office park in Iasi, project owner Iulius group announced. The office space is on the last two floors of the United Business Center (UBC) 3 building.
"Accenture pays particular attention to its employees and the spaces in which they operate, taking into account many factors when choosing a new office. We look for office spaces that ensure the safety and health of employees. Also, the building must be a premium quality and provide access to various facilities within the complex or nearby (bank branches, pharmacies, restaurants). Another important factor is the flexibility of space, which should support the development on medium and long term. Last but not least, advanced and effective building management systems are important, that monitor the resources consumption in order to reduce the environmental impact," said Razvan Patrunoiu, country managing director of Accenture in Romania.
Accenture launched its operations in Iasi in august 2015, having acquired EnergyQuote JHA, an energy management and procurement services provider, where it currently employs 150. With over 2,000 skilled professionals in Romania, Accenture provides services from Bucharest, Timisoara, Cluj-Napoca, Targu Mures and Iasi for companies operating in a broad range of industries such as: banking and insurance, telecommunications, automotive, FMCG, energy and resources. Globally, the company is active in more than 120 countries.
On the office segment, the Iulius group developed the United Business Center (UBC) brand at a national level, including about 80,000 sqm of class-A office buildings operating in Iasi and Cluj-Napoca, and another 155,000 sqm pending construction.
The Palas Iasi complex comprises four office buildings adding up to 38,000 sqm, accommodating over 3,900 employees. The Iulius group is currently developing two other office buildings in the Palas ensemble, both of which are going to be opened in early 2016 (UBC 5 – 15,000 sqm and UBC 6 – 9,000 sqm).
At the same time, the works for the second mixed-use ensemble in the Iulius company group network were started this autumn, in the immediate vicinity of Iulius Mall Timisoara, with the investment adding up to over EUR 220 million. Along with the retail, park and entertainment functions, Openville will also include seven class-A office buildings, with a gross leasable area of over 131,000 sqm.
Natalia Martian