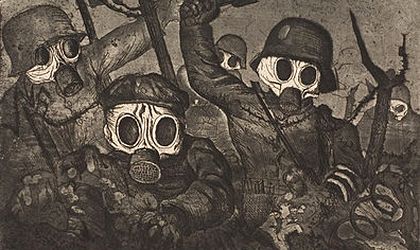 Until May 25, the National Museum of Art of Romania presents Otto Dix's prints from 1920 -1924 period, in a temporary exhibition called "A world in ruins". The exhibition is part of the series of events organised within the "1914-2014" program, marking the centenary of the First World War.
German Otto Dix (1891 – 1969) is one of the most important artists of the 20th century who presents no less than 86 prints and lithographs created between 1920 and 1924.
The exhibition presents the series of 50 prints entitled The War (Der Krieg), a result of the traumatizing experience Otto Dix had on the battlefield during the First World War. This experience haunted him all his life, having a strong impact on his creation.
According to the official press release, in 1914 Dix enlisted as a volunteer-soldier in the German army and took part in battles in France, Flanders and Russia until 1918. The War series (1923-1924), the culminating point of his graphic work, originates in about  500 drawings dating from this period. The prints created by Dix, generated by his own experience, were meant to draw the attention of his contemporaries – without concealing the truth – to human misery and the degradation caused by war.
In addition to the War series, the exhibition also presents lithographs and etchings on copper-plate representing images of the 1920's – prostitutes, old people, workers' wives, war invalids, circus characters – captured with critical objectivity, sarcasm and irony.
The prints show the passage of Dix from Expressionist, Cubist and Futurist influences to a kind of realism lacking emotion, through which he expresses himself brutally, in the style which will be named New Objectivity (Neue Sachlichkeit). The main interest of the artist is humanity under all its aspects and with all its weaknesses, the human being the dominant theme of the artist's work.
Photo courtesy of Wikipedia, representing 'Stormtroops Advancing Under Gas', etching and aquatint by Otto Dix, 1924
Oana Vasiliu