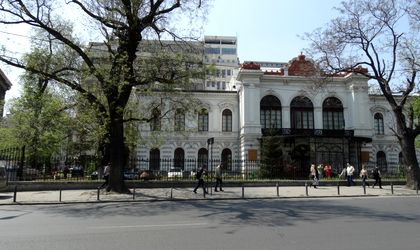 Located in the very center of Bucharest, in Universitatii Square, the building which today hosts the Museum of the City of Bucharest, formerly known as Sutu Palace, bear witness to the birth of the modern Romania.
By  Anca Ionita
The building belonged to one of the foremost princely families of the three Romanian principalities, the Sutus. The owners, one of the wealthiest clans in the country, decided in 1833 to build a new residence as their old one was not in keeping with the social transformations of the fourth decade of the 19th century and with the family's status. Designed in neo-gothic style by architects Johann Veit and Conrad Schwinck at the order of Costache Sutu (1819-1893), it displays four small towers on the north and south wings of the palace and a dome, which earned the construction its reputation, both for its size and its architecture, as the city of Bucharest's outstanding building of the time.
The main attraction of the palace is the two-winged monumental staircase in the central hall, designed by sculptor and decorator Karl Storck in 1862, the elegant shape of which is reflected by the giant Murano mirror placed on the opposite wall. The balls given by Grigore Sutu (the son of Costache) and his wife Irina (whose portrait hangs on top of the mirror) became the biggest events in the social calendar of the local nobility, who could flaunt their clothing and jewellery while climbing the lavish staircase.
An elegant four-pillar entry continued by a marquise was added later, as was the large park where guests could admire the peacocks, pelicans and wild pheasants gathered around the palace.
While the towering building and its owners, Grigore and Irina Sutu, were the center of Bucharest's social life in the second half of the 19th century, the palace retained its central importance in the 20th century. During World War I, it would become the residence of German general Tülff von Tscheppe und Weidenbach.
In 1919, in the conference hall, August von MacKensen and Alexandru Marghiloman discussed the peace treaty between Romania and the Central Powers. The building also hosted Bucharest City Hall in the late 1920s.
A descendant of the family sold it to the savings bank CEC in 1942, before leaving the country. In 1959 the communist regime inaugurated the History Museum of the City of Bucharest.
More photos: http://goo.gl/L0vTs