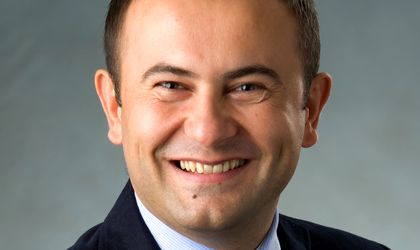 In 2003, Romanian entrepreneur Catalin Stef started a software company in Cluj, which went on to be bought by 3Pillar Global. He now coordinates operations in Romania and India as general manager of 3Pillar Global Romania. The firm is in expansion mode, looking to consolidate its business in Cluj and Timisoara, and a third center may soon be opened in Romania if all goes well.
By Otilia Haraga
You lead the offices in India and Romania. What are the differences in mentality, culture, work ethics, schedule and salaries between the two countries?
It is a great challenge to lead operations on different continents because there are numerous cultural differences: from different holidays and the sync of the calendar to the relationship between the employee and manager and the desire to make a name for themselves that young Indians have and energy they are willing to put into that.
One of the main challenges was to sync the differences between the two cultures so that the strong points complete with each other and we can use this complementarity in the services we offer customers, where it is necessary to have greater adjustment power because we are working on very different external markets.
For instance, IT people in India excel at implementation while those in Romania are used to thinking out complete solutions for product development, working alongside the customer's teams and bringing added value from the project stage.
From this point of view, the level of the IT industry in Romania is closer to that in the West, even the UK.
What is the story behind the company from the time you started it until you sold it to 3Pillar Global?
In 2003, at 26 years old, I set up a software company in Cluj. After graduating from the Babes Bolyai University, I became an employee, after which I worked as a freelancer for a time. There was a time when I was working as an employee for eight-nine hours a day and an entrepreneur for four-five hours at night. The 12-14 hours increased after I set up the company, because I was a programmer, manager and salesperson at the same time.
I wanted two things: to be independent and to be able to create a working environment that was different from what existed at that time in Cluj, one where each person could be important through their contribution, where experience can be individual and where one does not have the feeling of being a little cog in a big wheel.
In 2008, I reached 50 employees and had my headquarters in an office building. Then there came a time when I could no longer support the growth of the company, when we had hit a plateau, and I made a first partial exit from the company, followed by a second one towards LeverPoint, the future 3Pillar Global. That was a decisive moment in my career.
In 2009, we started hiring massively.
Why did you open offices in Cluj and Timisoara?
I founded the company in Cluj and the fact that the Romanian headquarters is located here is a natural continuation of this. The second center, in Timisoara, came as a result of our expansion, since Timisoara is a town where there are many IT specialists trained at several large multinationals with a high degree of seniority. However, leaving the technical expertise aside, an important factor was the local culture, which is very close to that of the teams in Cluj, which facilitates collaboration between units.
How many people work at the Romanian offices at the moment? How many more will you take on?
In Romania there are more than 300 employees, of whom two thirds are in Cluj and one third is in Timisoara. In the discussions we had with our customers in the first quarter of the year, it emerged that we need to take on 100 more employees, but we will most likely exceed this figure.
What expansion plans do you have in Romania?
First of all, we are focusing on growing the two existing centers. Depending on expansion needs and labor force availability at the desired market level, we might decide to open a third center, in another city in Romania.
How do you recruit IT staff? Do western Romanian cities offer a large enough pool?
It is obvious that at the moment, demand exceeds supply, and universities cannot train enough IT students. Our data show that even if the number of students were to increase by 50 percent, they could all be absorbed by the labor market. But it also depends on the degree of seniority that a company requires.
A service company like ourselves, where one needs to work with the product teams or the customer's product manager, needs highly skilled specialists who have the ability to work with various technologies to offer the best implementation solutions to customers.
Much of the recruitment takes place through headhunting, but also through our own promotions and positioning to become more visible in IT communities.
We are targeting medium- and senior-level engineers with two-seven years of experience, who should fill programming and testing vacancies. As far as programming is concerned, we are especially looking for Java and Phyton skills but also specific technologies for developing web and mobile applications. We are also looking for managers with technical experience.
Since the company was taken over by 3Pillar Global, what are the actual investments and investment areas?
Investments vary from one year to the next but can reach several hundreds of thousands of EUR if they include things such as moving to a new headquarters, as happened last year. But we also invest in less tangible things such as the quality of the collaboration with the management teams, teams in other locations and customer relations.
Do you think western cities should be encouraged to develop through special policies from central and local administration?
I think solutions should be found to grow the number of graduates, implementing in this sense some strategies leading to the promotion of IT from early on (high school or medium-level school) in order to create the necessary pool. I think that, on the other hand, local decision makers need to think out some regional strategic policies allowing easier movement of highly skilled specialists between smaller or medium-sized cities and regional hubs such as Timisoara and Arad, Cluj and Alba Iulia.
I am talking about macro strategies at regional level that would be win-win, both for the regional center and the satellite cities, and also for investors. The risk is that investments in IT will plateau because of the difficulty of attracting candidates, which would strategically be a great loss for these regional centers.