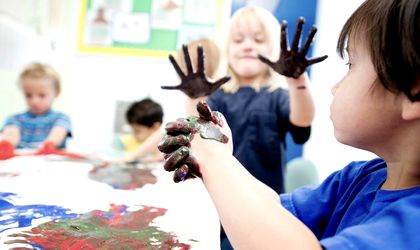 26 percent of Romanian parents are willing to spend over RON 500 (over EUR 100) monthly on extracurricular classes and workshops meant to develop their children's abilities, says a study conducted by Smart Education, a center for parenting and children's personal development workshops, on a sample of 200 parents. Of the parents, 21 percent are willing to spend a maximum of RON 300, 19 percent a maximum of RON 500, and 17 percent a maximum of RON 400 and RON 200, respectively, according to the study.
All parents believe that extracurricular programs are important for a child's development, with most of them choosing foreign language programs (43 percent), personal development, communication, public speaking (42 percent) and arts (34 percent), says the study. The most common combination parents choose is of personal development and foreign languages (19.8 percent), also according to the study.
When it comes to the criteria implemented to choose these activities, parents cite the child's preferences as the most important one (73 percent), skill development (59 percent), and teaching method (52 percent), says Smart Education. Only 6 percent of respondents ranked other parents' recommendations as very important, said the study.
Asked which skills they noticed their children developing after an extracurricular course, parents cited self-confidence, self-understanding, better focus, competitiveness, patience, discipline, and ambition as the most valuable ones, said the study.
Andreea Tint