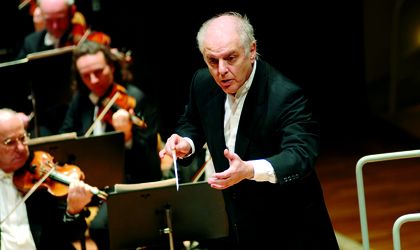 As the festival reminds us each time, Enescu's spirit endures through his music and the younger generation of musicians he inspired. Yehudi Menuhin (a former student and friend) poignantly described Enescu as "the most extraordinary human being, the greatest musician and the most powerful influence ever exercised upon me."
By ANDREA OVANEZIAN
Although it will take more than magic to transform Romania beyond the month of September, the 21st George Enescu Festival will no doubt enhance our appreciation of Enescu's music.
This year's festival inauguration concert features two of the greatest musicians of our time – conductor Daniel Barenboim and Romanian pianist Radu Lupu, whose international career is at its peak.  "Never could music come nearer to speech," wrote journalist Joan Chissell in The Times about his London stage debut in 1969, where he performed Beethoven's no. 3 Op. 10 piano sonatas. The program includes Enescu's Romanian Rhapsody no. 2 and Beethoven's Concerto no. 4 piano for piano and orchestra. Lupu will also perform a piano recital on Wednesday at the Athenaeum.
The festival will feature twenty-six Enescu compositions, including five unusual works (program details at http://festivalenescu.ro/calendar/events).
Unknown to the general public, the Symphonic poem Isis was drafted by Enescu in 1923 at age 42 (but left unfinished), and completed posthumously by Pascal Bentoiu, a Romanian composer and musicologist (also the author of a major analysis of Enescu's master works, published both in English and Romanian). Isis will be performed on September 18 by the Lucerne Symphony Orchestra and the Romanian chamber chorus Preludiu.
Another unknown composition, the Capriccio for violin and orchestra was drafted by Enescu in 1928 at age 47 (also left unfinished), and was completed posthumously by the composer/conductor Cornel Taranu and the violinist Sherban Lupu. The Capriccio will be performed on September 28 by the Royal Philharmonic Orchestra and the violin soloist Dmitry Sitkovetsky.
Among his lesser-known compositions, the splendid Octuor for strings op. 7 (composed in 1900 at age 19) reveals Enescu's unique use of polyphony and counterpoint, which ostensibly was perceived as 'too modern' when it was first performed in Paris in 1909. At this year's festival, Octuor will be performed on September 15 by the Harmonius Chamber Orchestra of Osaka and conducted by Otomo Naoto (who might also provide a valid link between Enescu's music and that of contemporary Japanese composers such as Akira Nishimura).
Another lesser-known work, the Symphonic poem Vox Maris op. 31 is a composition which Enescu sporadically worked on for 15 years (initially drafted in 1929 at age 48, completed in 1954 at age 73). Vox Maris will be performed on September 11 by the National Academy of Santa Cecilia's Orchestra and Chorus, and the tenor soloist Marius Vlad Budoiu.
Paradoxically among his less popular works, Oedipe op. 23 is the capodopera which consumed Enescu's musical efforts for a quarter of a century (he began drafting the opera in 1910 at age 29, completed it in 1935 at age 54, and spent another year tweaking the orchestration for its Paris debut in 1936). It may seem inaccurate or unfair to categorize Oedipe as 'less popular', especially given the lengthy survey of its international performances as documented by musicologist Octavian Cosma (Oedip-ul Enescian, © 1967). However, many of its international premiers did not occur until the turn of the 20th century (American debut 2005, organized by Sherban Lupu), and even today Oedipe typically remains beyond the standard repertoire of major opera houses (outside Bucharest).
As author Noel Malcolm describes, Oedipe is one of the least performed masterpieces of the 20th century. Despite Enescu's self-imposed rules for composing the opera (it should not drag on; the public should not become bored; the listener should understand the text), and the initially warm reception of musicians and critics, the opera (which does not feature any love duets) was not a big success with the general public when it first debuted in Paris. At this year's festival, Oedipe will be performed on September 26 by the Bucharest National Opera and Orchestra (tickets are still available).