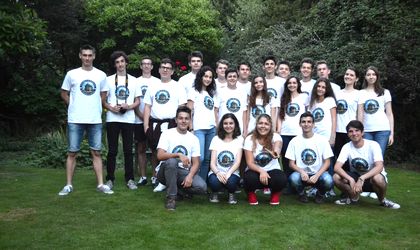 21 ambitious Romanian students coming from less privileged backgrounds had the chance to experience one week of education at Oxford, in a summer school, following an initiative of three Romanian researchers, members of the Oxford University. They started a crowdfunding campaign that led 10 foundations and companies from both the UK and Romania, as well as 45 individual donors to support 21 pupils showing academic potential for one intensive multidisciplinary week at Oxford.
Few Romanian students could afford studying at Oxford, although many would have the potential and resilience for it – this is what motivated Monica Enescu, Romanian researcher in medical imaging at Oxford, to take initiative. Together with Ciprian Ploștinar, researcher in particle physics and Sandor Kruk, researcher in astrophysics, they pioneered the project. In only four months, the idea was transformed into a well-structured summer school with the help of volunteers from the Romanian Oxford community and partners who made it possible for Romanian high-school students who could not otherwise afford this learning experience.   
The pupils participated in multidisciplinary activities, workshops and one-on-one tutorial programs inspired by the teaching model traditionally used at Oxford University. The tutors were volunteering Romanian professionals from various fields with teaching experience in both formal and non-formal education. Almost 20 tutors taught courses and delivered workshops in physics and astronomy, Maths, biology, urbanism and social sciences, charities and political culture, medical imaging, journalism, career orientation and personal development, neuroscience, photography, music and documentaries. The program was intense, with at least eight hours per day spent in several colleges of the Oxford University, as well as outdoors, during other activities like dance, performance, sports and a trip to London.
"It was an extraordinary week. It helped me explore my passions, discover new ones and share ideas with some really special people. Watching this small, but powerful community, I couldn't help but be overwhelmed with joy and curiosity. I am looking forward to seeing the next projects they will organise. I left Oxford determined to create a better world together with these special people.", said David Manda, student at "Frații Buzești" National College in Craiova.
"It was a unique experience. I've met incredible people who wanted to share their passions with us, some kids who were eager to learn. The programme was very well structured, so that we could gain knowledge in fields like maths, neuroscience, astrophysics, music and photography, but also explore the beautiful Oxford city. I can proudly say that I want to be like them and live my dream.", mentioned Florentina Hurchi who studies at "Ioan Petruș" Theoretical High-school in Otopeni.
"Oxford for Romania" aimed on the short run to help young people define their career options, develop abilities and competences in multiple areas, and get to know both the academic world and the Romanian community in Oxford. Pupils understood that success depends more on their own grit and exposure to relevant learning experiences, not necessarily on the school they are attending. They have learnt that many Romanians enrolled in Masters or PhD programs in Oxford studied in Romania and took advantage of various projects and scholarships that helped them pursue their dreams. On the long run the summer school aims to create mentorship program and a network of professionals who can guide and motivate young people to take the best decisions for their future.
"Meeting these young people confirmed the need for such a program in the Romanian educational landscape. We were impressed by both their willingness to learn and their insightful contributions they brought during the entire summer school. They were curious, energetic, passionate and ambitious. To keep them motivated we will continue with a mentorship program supported by volunteers from the Romanian community. On long term we would like this project to be an annual event with national reach and more partners that are determined to invest in young people's potential", mentioned the organisers.
Among more than 100 applications received, the organisers selected 21 high-school students from Craiova, Slatina, Orăștie, Lupeni, Cluj, Otopeni, Mioveni, Baia Mare, Piatra Neamț, Pitești and Timișoara, taking into account their academic potential, proven civic and community engagement, as well as family's modest financial resources.
Oana Vasiliu