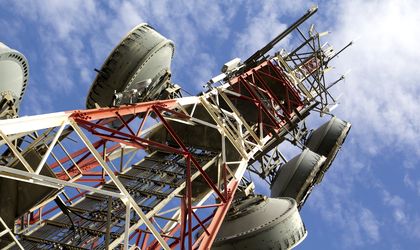 Telecom operators in Romania continued to develop and upgrade their 3G and 4G networks in 2015, expanding the area of coverage of these services. This year marked a new entrant on the 4G market as Romanian – based telecom operator RCS&RDS announced that it will offer 4G data services in 25 Romanian cities. Telekom Romania is reportedly undergoing top management changes. At the consumer market, telecom services are becoming more present in Romanians' lives.
Otilia Haraga
According to data from the Romanian telecom watchdog ANCOM, in the first nine months of this year, Orange Romania offered real average download speeds of 27.83 Mbps indoors and 39.21 Mbps outdoors, RCS & RDS provided speeds of 2.62 Mbps indoors and 2.85 Mbps outdoors, Telekom Romania Mobile Communications offered 10.25 Mbps indoors and 13.45 Mbps outdoors and Vodafone Romania provided 15.78 Mbps indoors and 26.77 Mbps outdoors. This data was aggregated by Netograf.ro, the application for testing and monitoring the quality of internet service in Romania, set up by ANCOM.
The top five providers of fixed internet services offered in the first nine months of the year the following real average download speeds: Digital Cable Systems – 47.42 Mbps via cable and 26.25 Mbps wireless, Nextgen Communications – 63.57 Mbps via cable and 35.53 Mbps wireless, RCS & RDS – 98.95 Mbps via cable and 43.48 Mbps wireless, Telekom Romania Communications – 31.10 Mbps via cable and 16.68 Mbps wireless and UPC Romania – 57.19 Mbps via cable and 31.27 Mbps wireless, according to Netograf.ro.
This data was generated based on 120,000 tests conducted by users from the start of the year, of which approximately 100,000 were validated, the rest being considered as having flaws or as attempts to influence the results.
Romanian-based telecom operator RCS&RDS, announced this year that it will offer 4G services to 25 Romanian cities. RCS&RDS obtained the 4G license in the 2,600 MHz bandwidth from 2K Telecom.  RCS&RDS promised that Digi Mobil users will benefit from transfer speeds of up to 150 Mbps. In the first stage of the project, 4G services from RCS&RDS became available to Digi Mobil customers in 12 cities: Bucharest, Cluj, Timisoara, Brasov, Oradea, Craiova, Constanta, Iasi, Arad, Sibiu, Pitesti and Ploiesti. By the end of the year, the 4G coverage will be expanded to Galati, Braila, Baia Mare, Targu Mures, Satu Mare, Ramnicu Valcea, Drobeta Turnu Severin, Targu Jiu, Resita, Slatina, Hunedoara, Vaslui and Alexandria.
At the moment, all four major mobile operators in Romania, Orange Romania, Vodafone Romania, Telekom Romania and RCS&RDS are providing 4G services.
Telekom Romania will have a new CEO, as the German Nikolai Beckers is ending his term, after integrating Cosmote and Romtelecom into a single entity and rebranding the company. The new CEO of Telekom Romania will be the Slovak Miroslav Majoros, who, until now led Slovak Telekom as CEO and board president. The Romanian state also appointed new representatives in the Telekom board, two of these being former members of the Telekom team, according to Ziarul Financiar.
On the market of fixed broadband internet, ANCOM decided there is no need for further regulation because the market has fair competition. In 2010, ANCOM had imposed a series of obligations on Romtelecom (currently Telekom Romania Communications), compelling the company to transparency, non-discrimination, granting access to infrastructure, as well as tariff control and keeping separate accounting books, as far as the services of access to the local loop were concerned. After the latest analysis, ANCOM decided to withdraw the regulation previously imposed to Telekom Romania, arguing that the company no longer has significant power on the market of infrastructure access.
ANCOM explained that any regulation ex ante at the level of the wholesale market is justified only if it yields real benefits for users and would make the retail market competitive in the long term. Since the ANCOM analysis showed the retail fixed internet market is already highly competitive as far as the infrastructure is concerned, the authority considered that no further regulation is needed.
The ANCOM analysis showed that the fixed broadband internet market will continue to be competition-driven. "The market is dynamic, fluid and is growing continually, and Romania has the highest infrastructure-based competition out of all European Union member states, with over 750 providers of fixed broadband internet services in 2014, with over 60 percent of the connection speeds amounting to at least 30 Mbps and over two thirds of the population in Romanian localities covered by at least three networks that can offer fixed broadband internet," according to a press release from the authority.
The low rate of penetration of fixed broadband internet services is not caused by the lack of competition on the market, but by the low degree of penetration of terminals that allow internet access from home, the low digital skills of the population as well as the low average income level per capita, especially in the rural areas, ANCOM argued.
Nine out of ten Internet users in Romania use fixed home connection to search for information, read news and keep up to date with events, while 77 percent use it to access online socialization networks.
When choosing an internet connection, the main criterion that internet users take into consideration is the financial aspect, 66 percent of Romanians consider the subscription price as important, while 62 percent of them are interested in the stability of the connection and 48 percent the maximum speeds of transfer provided by the supplier.
The ANCOM analysis also showed that the market is highly innovative and the products are highly differentiated, as seen in the wide range of products, varied internet speeds and varied price offers. ANCOM mentioned that the tariffs for fixed broadband internet speeds in Romania are still among the lowest in the European Union.
At the moment, there is one tablet for every three Romanian households and a smartphone for every two, according to ANCOM data.  Thus, approximately 36 percent of Romanian households own at least one tablet, 73 percent have at least one smartphone and 55 percent of them at least one laptop.
"50 percent of Romanians have access to mobile internet by phone, based on a telephony postpay offer that also includes internet, 35 percent have internet access on the phone, based on a prepaid card that includes a mobile internet additional option, while 25 percent have internet access via a stick or USB card with subscription," according to the press release.
Approximately 55 percent of mobile internet users with limited traffic said they pay close attention to the way they use the traffic and do not exceed it. Another 24 percent of users very rarely exceed the traffic limit, while some 10 percent admit this happens to them often or very often.
In the case of mobile internet services, Romanians pay on average RON 58 for an individual service, while for a bundle that includes mobile internet, they pay RON 109. Most users pay between RON 23 and RON 45 for individual service while the price of a package of services is RON 90.
A recent study by EY, called Use of Mobile Devices, shows that 62 percent of Romanian smartphone holders use the device for two to six hours daily, while two thirds check them in the morning, during the first 30 minutes after waking up.
Romanians carry their devices with them and check them often, with 41 percent of the young population (aged between 25 and 35) stating they check their phones up to 200 times a day.
Romanians use smartphones (62 percent of respondents), mobile phones (23 percent) and tablets (18 percent) between two and six hours daily. Two thirds of respondents say they check their mobile device within 30 minutes from waking up, while a 29 percentage make it a top priority, before having breakfast or washing their face.
The EY study also highlights the use of a large number of applications among Romanians, 66 percent of respondents using apps in the business category, 60 percent in the photo and video category, 46 percent in music and entertainment, with the lowest values recorded being apps in the lifestyle (28 percent), health & fitness (25 percent) and sports (17 percent) categories.