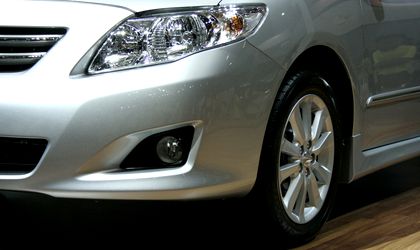 Although the local automotive market posted a moderate growth this year, it needs much stronger sales from the domestic new cars' side. Additionally, increasing the financing capacity of the Rabla program would also help stimulate new car sales.
Anda Sebesi
According to the Automotive Manufactures and Importers Association, the Romanian car market posted an increase of 17.7 percent to 97,807 units sold in the first ten months of this year, compared to a similar period last year. The same source says that the passenger car segment posted an increase of 15.9 percent, or 79,739 units sold, in the period mentioned above. As for the brands, Dacia is the leader with 27,986 units (or 35.1 percent of the total market,) followed by Volkswagen (7,960 units or 10 percent,) Skoda (7,245 units or 9.1 percent,) Ford (4,991 units or 6.3 percent,) Renault (4,832 units or 6.1 percent) and Opel with 2,953 units, or 3.7 percent of the total market. From the model perspective, Dacia Logan has been the best seller in the first ten months of this year, with 13,379 units sold, followed by Dacia Duster with 5,366 units, Dacia Sandero 4,926 units, Skoda Octavia 3,298 units and Dacia Logan MCV with 2,612 units.  The same report shows that 411 new hybrid passenger cars have been sold in the first ten months of 2015, of which 25 units have been 100 percent electrical.
But what can boost Romania's local car market? The First Car program does little to boost new car sales as it offers potential buyers the same terms as regular loans, stated earlier this year Constantin Stroe, the president of the Romanian Car Producers'  Association – ACAROM – during the second day of the Foreign Investors' Forum organized by Business Review."Romania is importing three used cars for every new car being sold. It is crucial to find ways to restart the domestic market," said Nicolas Maure, the general manager of Dacia Renault Romania.
The government's First Car program is meant to stimulate new car acquisitions, however producers say it should be changed to increase the lending period beyond five years and offer lower interest rates. Such measures are crucial to support the market, given that lowering the VAT from 24 percent to 20 percent would have little effect in boosting new car sales, added Stroe.
According to Maure of Dacia Renault Romania, quoted by Mediafax, Romania has more than 3.5 million cars that are over eight to ten years old which should be replaced with new ones. "In order for this to happen, there is a need for more Rabla tickets as the current ones are not enough. Additionally,the First Car program must be better and we consider that the reimbursement period should be longer than seven years," he said.
Pundits say that the potential of the Romanian car market is actually high, but that Romania should stop or limit permanent imports of old cars which the more developed countries don't use anymore. "There is a lot of potential because, if we consider the Romanian population of 20 million, the car industry is quite low. As for the eco cars, we have an infrastructure problem, as Romania doesn't meet the condition to have cars that meet many safety requirements is not valid. The domestic market could develop very much," said Valerio Brenciaglia, general manager at Ford Romania, quoted by Mediafax.