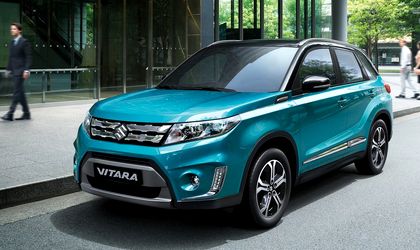 The Romanian automotive market saw an increase of 31 percent increase in Suzuki registrations in 2015, Agerpres informs. Thus, compared to the 865 units registered in 2014, at the end of 2015 there were 1,135 such cars registered, according to provisional data released by the authority for driving licenses and vehicle registration (DRPCIV).
The most successful model in Romania was Vitara, which was introduced to the local market in April 2015 and registered strong sales within the first eight months (648 units sold), followed by Cross (253 units) and Swift (166 units).
"The launch of the Suzuki Vitara in Romania has been a success which has resulted in increased sales in other models also. Under the worldwide plan, Suzuki will launch by 2019 a series of 20 new models and we are sure the models designed for the European market will be well received in Romania also. About 25 percent of total sales were directed to fleets, the Vitara and S-Cross models being the optimal choice for these customers," said Alin Radu, general director of Suzuki Romania.
In November 2015, the contender for most registrations was Dacia (2,830 units), followed by Skoda (666 cars) and Volkswagen (651), DRPCIV statistics show. Suzuki had 197 new registrations in November alone, and 246 second-hand registrations.
Natalia Martian