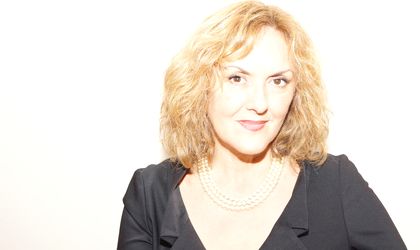 Catalina Rousseau, president and CEO at BDR Associates Strategic Communication Romania & Republic of Moldova, tells Business Review about the evolution of her business on the local market and its main achievements during its 20 years of activity.
By Anda Sebesi
BDR Associates has been present on the Romanian PR and strategic communication for 20 years now. What has this period represented for the development of your company and what were the most significant achievements?
We are celebrating 20 years of activity this year and I would say that these were our golden years in building excellence in professional strategic communication in Romania, and in other new markets. We were dreamers, passionately wanting to contribute to Romania's progress, building aspirational campaigns, changing mentalities and opening horizons in a new world. Profitable business was a second priority at that time. However, our first million Euro in turnover, reached for the first time years ago, was a milestone in the life of the agency.
Entrepreneurship was an adventure which I chose to live bringing exceptional people along with me. The dawn of BDR was in the full light. Few know that the name BDR comes from the Good Morning, Romania/Buna dimineata, Romania campaign which I managed during a three-year assignment for US Deloitte Emerging Markets. It was in the mid 90s. They were tumultuous years marked by major achievements in the agency's life, building a solid basis for our business. In early 2000 we opened an office in Moldova, where we formed the first team of PR professionals. The business has grown over the years, with BDR being a market leader in a competitive environment, especially since European aspirations have become an option.
In the late 90s, there was one thing bothering me: how to learn more and improve our knowledge practices. So, we looked around at who was who at international level. Then we started to knock on the doors of powerful companies whom we saw at that time as possible mentors for us. Many of the companies we were talking to were really interested in doing something in Romania, as a new market, which was in full swing at that time. Hope was everywhere. Yet just one door opened largely to us, from the very first moment we approached them: Hill + Knowlton Strategies, part of WPP. We became an affiliate entering the WPP network. In time this affiliation confirmed in many ways the choice we had made. We developed internal sophisticated competences through special training provided by H+KS, mainly in crisis management, through communication within the network, sharing models, case studies and best practices. We learned from them how to train others, maintaining standards and proposing communication techniques. We learned the importance of a continuous learning process. This is what has happened at BDR, ever since: continuous learning, practice development and self-improvement within our team. In time, we have partnered with other international agencies and highly reputed consulting networks.
In 2005 we brought to Romania Superbrands, which is known around the world for its innovative spirit, in recognition of the brand's reputation. For ten years now Romanians have constantly praised and valued their Superbrands through their votes. Our restlessness has made us move further, towards new horizons, in an attempt to get work in other markets, sometimes with very different cultures and mentalities. The spirit of adventure looking for new professional challenges has always been alive at BDR. We have approached other countries, wherever there were business opportunities that we could consider. We won projects for various companies and international institutions on a large geographical scale. From Bulgaria and Ukraine to Central Asia, BDR has put on its professional map countries such as Azerbaijan, Georgia and, more recently, Kazakhstan. We often create our strategies in the Bucharest office, and then implement them in joint teams, together with our colleagues from Chisinau, and local collaborators in the far-flung markets.
Our strategy for business development has always involved pioneering in our profession, opening new horizons for PR and strategic communication, wherever we operate. Excellence in our work, innovation and outstanding results for the client's objectives, loyalty and respect in any business relationship and ethical values are the main attributes of BDR, in our ongoing effort to build an impeccable reputation. One major contribution to the development of the communication industry in Romania and the Republic of Moldova has always been what we could simply call the BDR school, even if we haven't institutionalized it yet. In 20 years of activity hundreds of people have walked through the agency doors, exploring the career opportunities offered by the agency. They have discovered with BDR the beauty of working in this field, carrying this experience with them whenever they move forward to other destinations or new challenges in their career.
BDR people are now scattered in various countries across several continents, from Canada to South Africa, from the US to Qatar, some of them working in large companies or international institutions in Washington or Brussels, others dedicating their live to humanitarian actions, in poor countries in Africa. Among the other things that have always differentiated our agency is the warm welcome we have always offered to expats interested in working with BDR for a while. My previous outstanding experience with Deloitte has taught me about the power of a team when cultures and mentalities are put to work together. Such a combination of the creative minds and personal skills of people from different environments represents the key to success. We have shared our organizational culture with interns and students who came to BDR to gain experience; we have always welcomed into our BDR world all those Romanians who chose to cross the ocean for higher education such as an MBA or PhD, and who needed to practice in an agency in their country of origin. This learning process has never stopped, and BDR has never closed its doors to such professional requests. Looking back to what these 20 years have meant in the life of the agency, I think this professional education is the most valuable and consistent contribution that we have continued to bring to a flourishing communication industry in Romania. Our investment in human resources has always been high, ensuring the continuity of the values in which we believe. In other words, we are preparing for the future.
How do you characterize the local PR and communication market and what should be adjusted given the current economic climate?
I would say that the communication industry is fully consolidated, although it may not yet have the market it deserves. Our businesses depend, to a large extent, on a healthy economic environment. Our team is highly qualified, but demand for our services is generally dictated by economic prosperity, a significant growth in investments and general development and progress within society, all these factors representing a friendly environment in which we could easily grow and flourish. It is equally true that for us any type of crisis generated by the economic situation is a good source of business, because when such difficult circumstances occur, the demand for communication strategies and sophisticated consultancy is high. But we need a well-balanced and credible market, we need a vision at government level and competent political decisions regarding the future of this country, and the directions to take. Therefore change should come on the part of the decision makers that govern Romania. They should finally assume the mission to create friendly conditions for investments and for economic prosperity, they have a moral obligation to their country to bring prosperity to Romania. The communication industry has made all efforts to this end and therefore there is nothing to improve, or more to do from our side. We should keep providing our assistance at the highest professional level, promoting our values and ethics in business. We are now a voice to be listened to; we are building the future.
What are the main values of BDR Associates and how do you think they have contributed to the development of your business?
Our values shape our reputation wherever we work: high quality standards in our work, ethics and loyalty when building relationships with clients, impeccable results delivered. We have always practiced these values, demonstrating each and every day that success in business can be built with true values. Our main asset is our reputation, and if BDR is seen today as a highly professional agency, which never let a client down, this means that in business, reputation is gold.
You have a large team of specialists and consultants. To what extent is it "the ambassador" of the BDR brand and how has it influenced the success of your company?
To the highest degree. The majority of the professionals in the BDR team have built a career within the agency. There are consultants in our team that celebrate 10, 15 or 20 years with BDR. The current team, as well as a significant majority of all those who have left the agency following other career opportunities (mostly abroad), remain our proud ambassadors, because they all valued and respected principles and ethics in our profession. At the same time these people have enriched the agency culture with their own human and professional value. A happy match! Our team of professionals is one of our strongest brand values.
You have nine types of services in your portfolio now. Which are the most sought by your clients?
I have never counted how many competences we offer our clients. It is for sure more than nine, as we have this unique capacity to quickly adjust to a new industry or to our clients' latest priorities. There is no such thing as a most requested service. It is always a challenge to be able to offer diversity in our work. Strategic communication is very alive, permanently connected to innovative tools, which can help us reach our goals in the most sensitive situations, at any time. The most frequent requests involve results, actually. We have to deliver measurable results, which means that we return the investment made in communication by every client, in every market in which we operate.
You have worked with clients from many industries. What are the main challenges in working with such different customers?
This makes our life so interesting and our consultants say that they never get bored. Our working day is never grey, to paraphrase an old slogan that we created for a former client. But behind the beauty of the working atmosphere at the agency, there is always the other side of the moon: learning about the client and its business operations means learning about an industry at large, understanding the client's goals, gathering intelligence, making connections and finding solutions, sometimes in very tough circumstances. It is a challenge for us and a big responsibility at the same time. But nothing compares with the respect shown by a client whose problem was solved by our team's strategic approach and its creative thinking.
How do you see BDR Associates over the medium and long term in Romania?
We hope to grow our business in Romania, and to consolidate our presence in the Republic of Moldova. Our vision for BDR in the long run is to become a regional independent network, through opening new offices in other markets of interest for our local clients, and in support of Hill + Knowlton Strategies in those countries where the international group does not have a presence, but has business interests. Central Asia is still an aspiration for us, and if our assignments in that part of the world become frequent we intend to have a presence there in the long run. BDR has always been a step ahead in our field of activity, following challenges, looking to the future, which can be bright, if inspiration is sustained by innovation, solid ethics and business values.
BDR at a glance:
International bodies served: EU, USAID, UN, UNDP, UNICEF, World Bank
Number of employees:27 permanent employees and more than 10 permanent freelancers
Industries served: Energy, oil & gas/chemicals, finance-banking, IT&C, government and EU, healthcare, FMCG, sports and lifestyle, hospitality, automotive, logistics & real estate, among others
Awards: The SABRE Award for best agency and best campaign in Central and Eastern Europe (CEE), awarded by the US Holmes Report in 2006, followed by various Certificates of Excellence awarded at the global SABRE Competitions in 2006 (Berlin), 2007 (Barcelona), 2011 (Prague) and 2012 (Brussels).
2014 cumulated turnover: EUR 1.2 million.