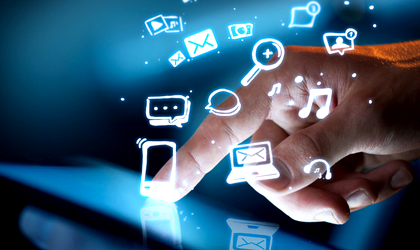 Acording to a recent study by GfK, new technologies have a relatively low rate of adoption by urban population in Romania, with 20 percent of respondents using a smart TV, 10 percent using cloud storage technology and barely 1 percent making mobile payments. The research, representative for urban population in Romania, shows that youngsters have the greatest openness to such technologies, though the overall rate is rather low.
When it comes to smart TVs, 20 percent of urban respondents say they have heard of and already own a smart TV, while 35 percent say that they would use one. Teens are more eager to adopt the technology, 70 percent of respondents aged 15 to 17 saying they would like to own one.
Cloud storage scored even lower, with 10 percent of respondents saying they use such a service, while the youth group (18 to 24 years) reached 25 percent. Both segments showed equal willingness to use the service in the future.
Smart watches also have a low rate of usage, with 2 percent of respondents owning one, though openness to the device is higher, reaching 34 percent of people who would like to have one.
Mobile payments are the least attractive technology among urban people in Romania, with 1 in 20 respondents using it, though the number of people willing to adopt it is three times higher. When it comes to the youth group, the number of adopters doubles.
The greatest resistance is seen for mobile device payments and biometric authentication (both at 18 percent). A little over 2 percent of respondents used such a technology, 14 percent would be willing to use it while two thirds have not heard about it yet.
"When it comes to resistance to new technology, differences between age segments are not that great; perceptions are quite "consistent" and continue to be recirculated among consumers. There is no reverse to digital technologies. There is the stationary level – until a critical mass that is familiar with new concepts is reached and we should be careful not to start too fast, because it requires a conscious effort in educating and increasing community awareness. So far there is first gear – the level of adoption among Internet users and second gear – the level of adoption among young people. We cannot reach supersonic speeds at once, though sometimes we think things should happen much faster since this is the Internet and digital area," says Andreea Coca, digital market intelligence consultant for GfK Romania.
GfK, a company specializing in market research active in Romania since 1992, posted a turnover of EUR 16.2 million in 2014. Covering two sectors, Consumer Choices and Consumer Experience, the company offers global marketing insight from over 100 countries.
Natalia Martian