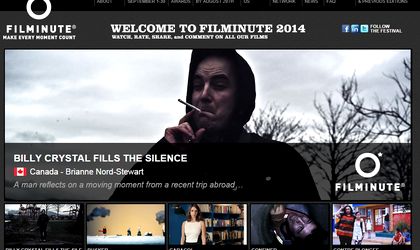 The ninth edition of FILMINUTE, the international one-minute film festival, opens this week and showcases the world's best 25 indie films. 18 countries ranging from Afghanistan to Colombia and from Finland to South Africa are represented and will compete for the international jury-awarded BEST FILMINUTE.
The FILMINUTE jury includes international luminaries from the world of film, the arts, and communications: award-winning Canadian documentary filmmaker, Jennifer Baichwal; FIPRESCI critic and head of the French Union of Film Critics, Isabelle Danel; popular American actress, writer and comedian, Kristen Schaal; Global Executive Creative Director at Korean-based Cheil Worldwide Inc., Wain Choi; as well as FILMINUTE multi award-winning filmmaker Khris Burton from Martinique.
The "BEST FILMINUTE" prize and 5 Commendations will be awarded by the FILMINUTE jury. The public at large is invited to view, share, comment upon, and rate all 25 films and is also entitled to a single vote for the film they feel deserves this award. The films will also compete for the attention of film fans from more than 130 countries who will decide the PEOPLE'S CHOICE and TOP RATED awards.
The 18 countries represented at FILMINUTE 2014 include Afghanistan, Canada, Colombia, Bosnia and Herzegovina, India, Iran, Israel, Finland, France (3), Morocco, Netherlands, Norway, Portugal, South Africa, Qatar, Spain (3), UK (2), and USA (4). Unfortunately, Romania isn't listed on this list as it used to be in the past editions.
Every year, throughout the month of September, FILMINUTE presents an array of 25 films online for festival-goers around the world to enjoy, share, and discuss. The FILMINUTE winners and awards will be announced on October 9.
Oana Vasiliu