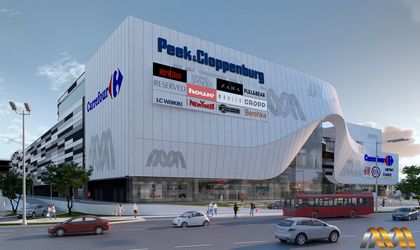 Three shopping malls will be delivered this year in Romania totaling some 167,000 sqm (GLA) according to a market report from real estate services firm JLL Romania. The first opening will take place in March when Immochan will complete the first phase of Coresi Shopping Resort (45,000 sqm) in Brasov. In April Bucharest will see the opening of a new shopping center, Mega Mall (72,000 sqm) which is developed by New Europe Property Investments (NEPI) in the eastern part of the capital. The South-African investment fund is expected to open a second project – Timisoara Shopping City (50,000 sqm) – in the last part of 2015.
By comparison, in 2014 only two shopping malls totaling some 53,000 sqm were delivered- Vulcan Value Centre (25,000 sqm) in Bucharest and Shopping City Targu Jiu (27,000 sqm) both developed by NEPI.
Romania's modern retail space stock stood at approximately 2.62 million sqm at the end of 2014, according to JLL. Out of this, more than 35 percent is in Bucharest.
Prime shopping centre rents remained stable over the last quarter of 2014 at EUR 60-70/sqm, the highest rates being reported by Bucharest shopping malls. Rental levels for prime high street units remained stable at EUR 55-65 sqm, according to the JLL report.
After retail sales went up by 7.4 percent in 2014 (y-o-y) retailers are expected to increase their expansion pace on the local market, say JLL representatives.  In 2014 the most active major fashion retailer was H&M, which opened 8 new units thus reaching a local network of 38 outlets. Other expanding brands include CCC Shoes (6 new units), Ecco (5) and Takko (4). Inditex Group, the largest fashion retailer in Romania in terms of turnover, operating approximately 100 shops, did not open any new unit in 2014.
Simona Bazavan