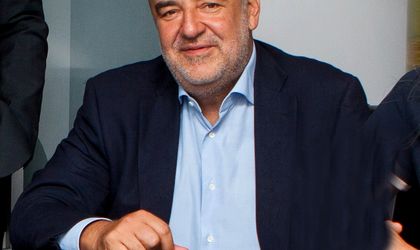 Costea Dumitrescu, partner at Ascendis, tells Business Review about the firm's major achievements and the most important factors that have established Ascendis in the leading position of the Romanian training market.
Anda Sebesi
Ascendis's motto is, "If you do what you have  done before, you will get what you have gotten before." How has this motto been transposed into the business practice of Ascendis during its development on the Romanian market?
This motto was intended to be both a signal and a value proposition. It has enabled us permanently to focus on change, differentiation, flexibility and adaptability, creativity and innovation. We have tried to incorporate this type of focus on as many plans as possible, starting with the business model, continuing with the day-to-day practice and culminating in customer relationships.
At the beginning of this year, Ascendis acquired 50 percent of the shares of EuCom, a provider of foreign language courses. How do you explain this extension of your portfolio of services to other areas and what was the reason behind this strategic movement?
The diversification of our portfolio of products is a strategic target for us. It helps us  to maintain the loyalty of our existing customers  as well as to  to gain new markets. We had been planning  to develop  this new direction for a while. Last year we had the opportunity to become a stakeholder of EuCom. After  months of negotiation the transaction was completed. The matching business model – both companies exclusively provide corporate services – and the fact that  the initial stakeholders of EuCom know us and have the same vision as we do, mattered very much. Plus, it is a complementary field, very close to our basic activity – which is  training.
How do you characterize the Romanian training market at present and how do you think it should be improved considering the current economic climate?
Like on any market with plenty of offers but  not very generous, the competition takes forms that are not always good news for customers. I don't know exactly what the market should do, but I do know that  we have to be more creative and closer than ever to the challenges our customers face. The capacity to understand the business goals of our customers and to propose programs to help them make a difference and enjoy success in their industries is the winning formula for Ascendis.
You have been present on the local training and consultancy market for 15 years. What does this mean for Ascendis and what have the major achievements of the company been over the years?
After 15 years of activity we are still passionate about and proud of what we do. Certainly our major achievement is a solid base of customers that rely on us. Modesty aside, we are the leaders of this specific market, we have a solid and well welded team, we learn and grow together with our customers and we have success side-by-side with them.
What are Ascendis's main values and how do you think they have helped the development of your business on the Romanian market?
Our main values come from our motto and were mentioned above. I would add the loyalty of my colleagues in all of our departments and the pleasure of interacting with people and participating in their personal and organizational development.
Ascendis has a large team of trainers. To what extent is this team the "ambassador" of the Ascendis brand and how have the trainers influenced the success of your company over time?
The team is not just the ambassador, it is Ascendis itself. We operate in an industry where the team members are our assets. In fact, Ascendis's success is the success of each of us. I am sure that all of our customers and all those who appreciate Ascendis's performance have in mind one (or maybe several) of the members of our team, and that represents the biggest satisfaction for us.
What types of customers do you target?
Over the years Ascendis has worked with customers from all industries. Lately, most customers have come from the manufacturing, IT&C, financial and banking, services, utilities and energy, retail and distribution, pharmaceutical and medical industries.
Ascendis in numbers
Team: 35 consultants, trainers and facilitators
Number of customers: 140 regular customers
2012 turnover: RON 16.3 million
Significant customers: BCR, BCR BpL, BRD, BRD Finance, Banca Transilvania, Cetelem, Citibank, Credit Europe Bank, Eureko, ING Fond de Pensii, Millennium Bank, Piraeus Bank, Raiffeisen Bank, RBS, Romstal Leasing, Intesa Sanpaolo IMI, VB Leasing, Volksbank, GE Money, Uniqa, Actavis, Merck Sharp & Dohme, AstraZeneca, Dent Estet, Europharm – GSK, MetLife, Pfizer, Sanofi Aventis, Sensiblu, Arctic, Bosch Rexroth, Cameron Romania, Carpatcement, Autoliv Romania, Continental Automotive, Dacia Group, Hella Romania, Chevron Romania,Eckerle Automotive, Johnson Controls, Yokogawa Europe, Metro Systems Romania, Miele Tehnica, Heineken, Holcim, Honeywell, JTI, Leoni, Michelin, Philip Morris, Saint Gobain, Wienerberger, Yazaki Romania, Alcatel, Ericsson Telecommunications Romania, Ixia, eMag, Microsoft, Novensys Corporation, Oracle, Orange Romania, Orange Moldova, Moldtelecom, Vodafone, DSV Solutions, Havi Logistics, Acvatot, Dalkia, GDF Suez, Enel Romania, E.ON Romania, MOL Romania, OMV-Petrom, Rompetrol, Cora Hypermarket, Auchan Romania, Kaufland Romania, Carrefour Romania, Ikea Romania, Romstal, UNICEF
Special Project