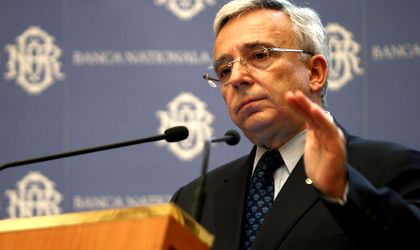 They run companies whose business is measurable through its share in the GDP and the country's annual exports, or firms trying to set precedents in their industries. They head ministries and institutions and their decisions directly impact the local business environment. Their challenges this year and the way they choose to address them will make the headlines and could directly influence the way business is done in Romania.
Who are they?
[restrict]
Ovidiu Posirca, Simona Bazavan, Otilia Haraga
Nikolai Beckers, CEO of Cosmote and GM of Romtelecom
With the Romtelecom privatization and potential merger with mobile telecom operator Cosmote in the cards this year, all eyes are on German Nikolai Beckers, who is in charge of the merger. Beckers took the helm of the two companies in April 2013, when he said his main priority would be to make them work as one and provide integrated services.
The Romanian state will also be selling its 45.99 percent stake in Romtelecom (with listing on the stock exchange as an option), but Greek Group OTE and Deutsche Telekom will remain major shareholders. OTE currently holds the major share package of 54.01 percent in Romtelecom, while Deutsche Telekom has a 40 percent stake in OTE. Reports in the foreign press suggest that Deutsche Telekom is preparing to take over an additional 10 percent of OTE, which will further strengthen German control of the companies in Romania as well. The merger between Romtelecom and Cosmote will place the German CEO at the helm of a telco with annual revenues of EUR 1 billion.
Daniel Constantin, minister of Agriculture and Rural development
The ministry he runs will have to decide this year under what terms local farmers and agribusiness firms will have access to the EUR 8 billion Romania was allocated by the EU for agriculture and rural development investments for the next seven years. More importantly, this will have to reflect the government's development strategy for the agriculture sector for the next seven years, something that the authorities have had problems articulating so far.
The Ministry of Agriculture and Rural Development (MADR) is currently in the process of drafting the first version of the National Program for Rural Development (NPRD) for 2014-2020 which should be sent to the European Commission by the end of February, according to previous statements made by Constantin. The minister has also promised that some measures that form part of the future NPRD could be put in place as early as this year. However, given that the deadline to send the first draft has been repeatedly postponed over recent months and that Constantin, who is also president of the Conservative Party, is caught up in the ongoing political crisis, more delays could lie ahead.
Gelu Stefan Diaconu, head of ANAF
Reform is the big theme for the Romanian National Agency for Fiscal Administration (ANAF) in 2014. Diaconu will have to convince taxpayers that the newly reorganized tax authority is capable of improving collection and is now better equipped to tackle the country's deep-rooted tax evasion problem.
One clear target, albeit set by the former finance minister Daniel Chitoiu, is for the newly established anti-fraud department to raise between EUR 800 million and EUR 1 billion in fresh resources for the state coffers by this May.
Improving tax collection remains vital given the local tax administration's poor collection rate – 28.4 in 2012, compared to the EU average of 40.6 percent – and local firms have long asked for the issue to be addressed. Some 40 percent of local companies believed ANAF's reorganization was absolutely necessary while 48 percent support the initiative but believe it still needs changes, according to a November PwC survey.
Mariana Gheorghe, CEO, OMV Petrom
A new royalties scheme for the oil and gas sector and shrinking local demand for energy are the main challenges facing Mariana Gheorghe, CEO of oil major Petrom. The company reported a net profit of EUR 1.1 billion last year despite weak gas and power demand and falling electricity prices.
A decade of frozen royalties for Petrom will end this year, with the government planning to roll out a new taxation regime for the oil and gas sector. A new fuel excise tax of 7 eurocents per liter to be brought in this April will erode diesel and gasoline sales by 1-3 percent, according to Gheorghe.
The offshore sector remains of great interest to the CEO, with the company aiming to resume exploration activities in partnership with oil major ExxonMobil by mid-2014.
Thomas Holst, country manager, Chevron Romania
Shale gas and fracking are controversial topics. Although Chevron says it has carried out awareness campaigns in communities based close to its concessions, nationwide coverage of the industry was triggered by protests in Romania and abroad.
Pungesti, where oil major Chevron was set to begin its first exploration operations, was center stage. The village was literarily under siege by police for a few days, but the company was ultimately able to begin exploration works.
Holst has taken a cautious stance on protests, but has so far failed to outline the risks and benefits associated with fracking, the technique of pumping water, sand and chemicals at high pressure underground to break shale rock formations, say commentators.
Mugur Isarescu, central bank governor
This may prove to be a challenging year for Governor Isarescu, who will have to make sure the local currency is not badly hit by potential political strife stemming from the European elections in spring, and the presidential race this autumn.
The central bank will join the election fever as well. A new BNR administration board will be appointed by Parliament this October. Isarescu is a sure bet to keep the top job, while the other eight positions are still under debate, although Florin Georgescu, prime vice-governor, is also tipped to hold onto his post.
Nicolas Maure, general manager, Dacia and Renault Romania
After denying rumors it could leave Romania, French carmaker Renault has said the development of infrastructure, which could reduce delivery times, was a key "determinant for future projects in Romania".
This year Maure has taken over the helm at Dacia Renault and is tasked with keeping the industrial platform at Mioveni competitive. The local operations are facing stiff competition from Renault's plant in Tangier, Morocco, where the infrastructure keeps delivery times lower.
Nevertheless, the government needs to be convinced that building critical road infrastructure that would be used by the carmaker to export is a driver of economic growth and employment.
Adrian Sarbu, owner of Mediafax Group
What's next for media mogul Adrian Sarbu? Upon submitting his resignation as CEO of Central European Media Enterprises (CME), the firm committed to invest up to USD 3 million in a content business which he wanted to start. His unexpected resignation from CME in August 2013 was swiftly followed by rumors that he may be using the money to launch a new TV format. Will his future lie in TV or will Sarbu settle in better at Mediafax Group, which he is currently running? Earlier this year another rumor emerged that the group, which owns a news agency, several print publications and online platforms, is considering expanding its video department, according to paginademedia.ro data. As for CME, it is considering selling its brands in Romania, including the flagship channel Pro TV, but it may not have heard the last of Sarbu. As one of the largest individual shareholders in the company, his actions could still influence the performance of its shares.
Ludwik Sobolvewski, CEO of the Bucharest Stock Exchange (BSE)
This year has new IPOs in store for the BSE. Three state companies in the energy sector should be listed by summer in Bucharest and London. Although offerings in state companies have proven to be extremely popular among retail clients, Sobolewski wants more shares in these companies trading on the BSE. This involves educating the public about the possible risks and gains associated with investments on the stock exchange.
Sobolewski may use some of the valuable experience he gained as head of the Warsaw Stock Exchange to woo more local private companies into listing. During his tenure in Poland, he founded a stock enhance platform for SMEs called New Connect, allowing entrepreneurs to secure financing for business development.
Dan Sova, delegate minister of national interest infrastructure projects and foreign investments
Securing financing and completing works on undergoing highway projects are the greatest challenges ahead for the delegate minister of major infrastructure projects in 2014. Only 90 km of highway will be delivered this year, but more will follow in 2015 as some 465 km of highway is presently under construction, Sova told a local TV station earlier this year.
Another challenge is the passing of the new Public Private Partnership (PPP) law, which Sova says will help speed up the construction of road infrastructure, but which president Traian Basescu sent back to Parliament for reexamination in January.
This year will also see the start of construction of the much awaited Comarnic-Brasov highway. The EUR 1.8 billion project is due to be completed in 2017, when the Romanian state will start reimbursing the developers.
Tomas Spurny, CEO, Banca Comerciala Romana (BCR)
Granting loans in the local currency has gained ground in the last two years, in a move pioneered by BCR, the biggest lender in Romania by assets. With a clean balance sheet, following a major restructuring of the business last year that axed jobs and reduced bad loans, Spurny says the bank is ready to finance the real economy.
The lender has stemmed the rise in new non-performing loans, and cut interest rates on consumer loans and mortgages under the Prima Casa guarantee scheme. BCR hopes the move will generate a new trend in the market and see more banks gain confidence and restart lending activity.
Dragos Tanase, general manager, RMGC
Selling a controversial 15-year old project to MPs is a daunting challenge, given the prospect of a crumbling political coalition and two rounds of elections. Add lackluster values for the parent company's shares on top of litigation in court and street protests, and you can imagine a typical working day for Dragos Tanase, general manager at Rosia Montana Gold Corporation (RMGC), the mining firm hoping to start the project.
Although the government passed a draft bill on the mining project, requiring a higher stake for the state and increased royalties, the Parliament killed it due to an insufficient quorum. Now hopes for the project are linked to a new mining law, which was initially supposed to be debated in February.
The gold and silver project at Rosia Montana, intended to be the biggest open pit mine in Europe, triggered massive protests in Bucharest last year, with demonstrators calling for a ban on cyanide-based mining.
Eugen Teodorovici, minister of EU funds
The challenge ahead for the Ministry of EU Funds is to increase the absorption rate of EU funds for the 2007-2013 financial allocation as far as this can be done at the 11th hour, and to prepare the ground for the 2014-2020 multiannual financial framework.
After Romania managed to absorb EUR 2.8 billion last year, this year Teodorovici has set the target for at least EUR 3 billion to enter the local economy. Another important issue on the minister's agenda this year is to get banks more involved in the EU funds accession process.
Lenders could step in to cover payments for a period when there is a funding gap from the state and could start handling project calls and overseeing the implementation period of EU-funded projects, as happened in the pre-accession period.
Zoltan Teszari, main shareholder, RCS&RDS
What this elusive owner of Romanian-based telecom operator RCS&RDS might do next is anyone's guess, given that he is extremely media-shy and only a couple of pictures of him have ever been published. However, since telecom operator RCS&RDS will gain access to a 15-year telecom license in the 900 MHz frequency in April, which will allow the company to deploy 4G services, one can only suppose RCS&RDS is right now taking steps to launch itself into the 4G battle.
The firm is already known on the market for its aggressive strategy and low price plans, so its 4G offer is expected to cause ripples on the Romanian market. Teszari is also tipped to continue to make investments such as one he made in a bankrupt footwear plant, most likely for real estate purposes. The launch of 4G should see RCS&RDS's activity grow rapidly. The final goal for Teszari is to create a holistic telecom and content company that will offer both telecom services and TV, radio and online content.
[/restrict]