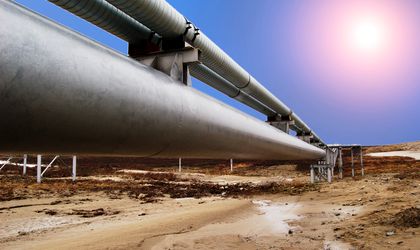 Romania's state-owned monopoly Transgaz will invest EUR 360 million in Tuzla-Podisor pipeline, a key project designed to connect the offshore natural gas facilities at the Black Sea to the international pipeline Bulgaria-Romania-Hungary-Austria (BRUA).
According to Transgaz board's half year report, the 308 km Tuzla-Podisor pipeline will ensure the transport of offshore natural gas to Hungary and Bulgaria, as it is the missing link between offshore facilities and the BRUA pipeline.
In May 2018, Transgaz successfully completed a tender for gas pipeline capacity reservation in Tuzla, a key procedure that allows it to build the Tuzla-Podisor pipeline.
According to Transgaz, the total transport capacity reserved by bidders for a period of 15 years (July 2021 to October 2036) amounted to 1,278 billion MWh, slightly above Transgaz's minimum threshold of 1,277 billion MWh to justify the investment in the Tuzla-Podişor pipeline project.
Potential customers reserved gas transmission capacity from Neptun Deep Black Sea area of 1,278 billion MWh for 15 years, or about 85.2 million MWh per year on average.
Last year, Romania's gas production amounted to 115.34 million MWh, which means that the gas extracted from the perimeter concessioned by ExxonMobil and OMV Petrom could increase the national production by 74 percent.
According to a recent report of Deloitte, investments in the Romania's Black Sea oil and gas sector will generate revenues of over USD 26 billion to the public budget and an additional USD 40 billion to the country's GDP until 2040, as a result of total investments of USD 22.2 billion.
Deloitte estimates a total production of close to 170 billion cubic meters of natural gas in Romania's offshore fields, based on a prudent scenario.
"The resulting estimates therefore show that each 1 billion USD invested in offshore oil and gas upstream activities in Romania generates 3.0 billion USD in the Romanian GDP over the upcoming 23 years of production. Moreover, it contributes with 1.9 billion USD direct and indirect revenues for the Romanian state, as well as creates and/or maintains, in average, an annual number of 2,198 jobs in Romania over the entire period," the study estimates.
Deloitte says that the impact on the labor market translates into creating and annually maintaining an average of over 30,000 jobs.