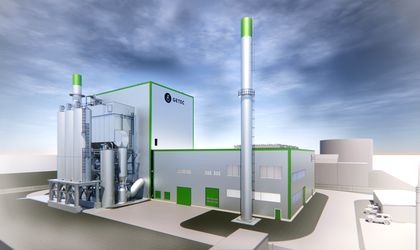 GETEC has reached a key milestone in the construction of the innovative biomass cogeneration plant for the leading specialty chemicals company Clariant in Podari, Romania. With the installation and commissioning of the complex water treatment system and the redundancy boilers of the combined heat and power plant, GETEC is now ready to generate and provide all the media required to launch production at the Clariant bioethanol plant.
GETEC can now supply treated water and steam to its customer Clariant. This is a huge step closer to the commissioning of the innovative bioethanol plant. The carbon-neutral biomass plant designed by GETEC will supply Clariant's cellulosic bioethanol plant in Podari with a revolutionary technology that allows lignin – a residual product from the bioethanol production process – to be converted into carbon-neutral energy.
"The project is special in every respect and testifies to the sustainability aspirations of the two market leaders Clariant and GETEC. Clariant produces bioethanol from the wheat straw residue, while GETEC uses the residue from this production to supply heat and electricity to the entire plant. With the supply of steam and water, we have reached a milestone that now makes the two companies' shared goal tangible. Clariant and GETEC are moving forward together on the path to Net Zero, something that we are extremely proud of," explains Thomas Wagner, CEO of the GETEC Group.
GETEC is building a climate-neutral energy generation plant for Clariant in Podari, Romania, which uses lignin, a residual material from bioethanol production, as fuel. The combination of lignin from wheat straw in a fluidized bed boiler is also unique worldwide. The fluidized bed boiler, in combination with a backpressure steam turbine, will supply steam and electricity to power the Clariant plant. GETEC provides all services, from planning, financing and construction to operation, maintenance and repair. The system will be commissioned in coordination with the Clariant plant this year.